Under Fire: A Love Over Duty Novel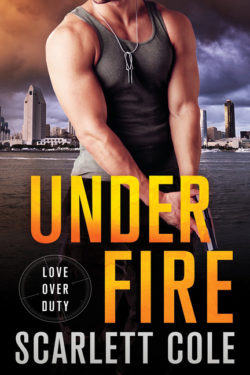 Author

Scarlett Cole

Release Date

August 1, 2017

Publisher

St. Martin's Paperbacks

ISBN/ASIN

1250128447

Our Rating

Reviewed by

BPoston
Our Review
Dr. Louisa (Lou) North is a genius. She is working hard to create a treatment for those suffering from Huntington Disease. However, her research has inadvertently taken her in a direction that results in the creation of a serum that could be used as a bio-weapon against people if it falls into the wrong hands.  
Sixteen (Six) Rapp just retired from the Navy where he worked as a SEAL. He and some of his SEAL brothers have started a new business as security experts. With their specialized training, they have the skills to take on the most dangerous of cases around the world. While doing a security sweep at a fundraiser, Six finds a woman on a balcony having what looks like a panic attack. He discovers this is Dr. North, the keynote speaker for the event. She is not what he expects, and he is attracted to her. She is not like the women he normally spends time with, but she is so different, he finds her interesting.  
Lou believes someone has been going through her research at the lab, but she can't prove it. She remembers the handsome security expert she met at the fundraiser, who works security, so she decides to discuss her concerns with him. At first, no one, not even Six, believes her, but then things start happening around her. He realizes Lou is in danger. Once he realizes how dangerous her research is, he knows he needs to find out who is after her and keep her safe. In fact, spending time with her, he discovers she is becoming more than a job to him. He'll do whatever is necessary to protect her.
UNDER FIRE is an action adventure story that moves very quickly. I enjoyed the journey Lou and Six take. They both have a lot of personal baggage they need to address. Will they realize that together they can face anything head on?  Well, you need to read the book to find out.  A great story that you will not want to put down.