Under the Mistletoe - Crooked Halo Christmas Chronicles #3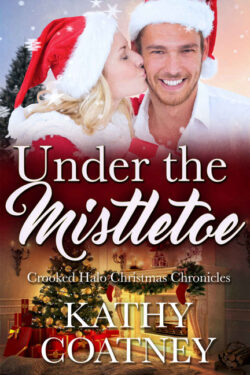 Author

Kathy Coatney

Release Date

November 4, 2020

Publisher

Windtree Press

ISBN/ASIN

B08MJ9X9GF

Our Rating

Reviewed by

Jo
Our Review
UNDER THE MISTLETOE is the third book in the CROOKED HALO CHRISTMAS CHRONICLES series, and I look forward to reading more. It was nice to be back with head angel, Aurora, and her two angels, Zack and Olivia. This time Zack and Olivia's assignment is to bring Seth and Frankie together. The story is set at Christmas, and the love interests share an interest in woodworking, the outdoors, and giving back. Their families play a role in the story, as do Frankie's dog and her toy shop, both of which she inherited from her grandmother. Packed with good feels and a heartwarming romance, UNDER THE MISTLETOE really delivers!
There were beautiful descriptions throughout the story. We see the mountains, the northern lights, skiing, and sleigh rides. The Christmas theme weaves throughout the book. Underlying everything is the theme of romance and love.
The story had a nice flow to it but it moved almost too fast for me. There's a wonderfully crafted happily ever after on two fronts, but I would have loved it if there was just a little bit more. I didn't realize I was at the end of the story until I turned the page and read The End.  I am happy to see that we'll be back next year with more Christmas stories with Aurora and her new angels in training. The cover is spot on, and I love that it's the same homey setting as the previous books in the series with a different couple superimposed above it.
Ms. Coatney is fast becoming an author whose books I look forward to reading. I can't wait to see what she pens next.