Under the Northern Lights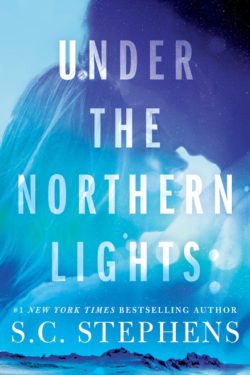 Author

S.C. Stephens

Release Date

April 30, 2019

Publisher

Montlake Romance

ISBN/ASIN

9781542093545

Our Rating

Reviewed by

Jo
Our Review
UNDER THE NORTHERN LIGHTS was not at all what I was expecting. The story flowed smoothly from the first page to the last and immersed me in all the characters' action and adventure. Set in Alaska and Idaho, the book made it hard not to get swept up into the story.
Mallory photographs wild animals in Alaska and lives all year for her annual trip to the remote area. She pilots her own small plane to get in and out of the area she visits, but this year when a storm hits enroute, tragedy strikes and her plane crashes. She's injured, loses most of her supplies and luggage and tries to survive as best she can.  What ensues makes up the bulk of the story, especially since she doesn't expect to be rescued by a mountain man.
Michael has hidden in Alaska as a survivalist after tragedy struck him in NYC where he lived five years ago. We learn about his past and how he manages to survive the way he does. Mallory tries to break down his defenses, especially when she finds out she's attracted to him.
The attraction between Mallory and Michael unfolds, and it's interesting to see how both of them dealt with it. No matter how rational Mallory is in her arguments to get Michael out of Alaska, he doesn't seem to hear her. They work well together on a day to day basis, sharing chores and their life stories. There are some romantic scenes that had a realism to them given their circumstances. The story resolves nicely, though I would have welcomed an epilogue. But all in all, UNDER THE NORTHERN LIGHTS is a satisfying and romantic read.
Ms. Stephens is a new-to-me author, and I look forward to reading more of her books including the Thoughtless series, since without much effort I was transported to Alaska in this book. I hope for more of this style of writing.