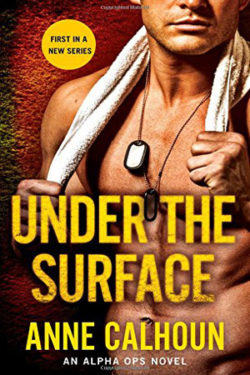 Author

Anne Calhoun

Release Date

May 31, 2016

Publisher

St. Martin's Press

ISBN/ASIN

978-1-250-08460-6

Our Rating

Reviewed by

Samantha Streger
Our Review
I was excited to read UNDER THE SURFACE, a new contemporary romance by Anne Calhoun. It did not disappoint! While it took a few chapters to get invested in the story, after that point I found myself picking up the book whenever I had a spare moment, wanting to see what would be next for Eve and Matt…or should we call him Chad?
Eve Webber's parents would love to see her settle down with a nice man and a boring marketing job. But Eve, who shares her parents' philanthropic spirit but not their vision for her life, has put everything she has into opening Eye Candy, an upscale nightclub she hopes will begin to transform the dangerous East Side. So when an old friend asks her to launder money through Eye Candy, Eve accepts—and then immediately goes to the police and agrees to be an informant. But the police have more eyes in Eye Candy than Eve knows: the sexy bartender she just hired, Chad Henderson, is actually an undercover detective named Matt Dorchester.
The sparks fly between Matt and Eve immediately, and both have to deal with their budding attraction while at the same time keeping their secrets hidden. I immediately liked Eve: she's independent and confident, and has real skill to back it up. She's attracted to Chad, and after some back and forth, she's not afraid to tell him that she's over his hot and cold attitude. This is no shrinking violet heroine, thank goodness!
But I loved Matt even more. The novel shifts back and forth between the two main characters' perspectives, and I usually found that I couldn't wait for Matt's. After serving in the army, raising his paraplegic brother after the debilitating accident that killed his parents, and saving lives as a police officer, Matt is strong and serious. It's only very slowly that we realize we're picking up hints of the negatives of Matt's strategy of coping with such profound struggles–he shuts off his emotions, acting like the hero for everyone else, but shutting himself off from what he really wants. 
It was fun to see the progression of Matt's character and wonder when Eve will find out the truth about his identity (and how furious she'll be when it happens). All too often in romance novels we see the hero keeping secrets unnecessarily out of a strange sense of morality or obligation, which is often hard to believe. But in this case we see Matt's understandable struggle as he wants to tell Eve who he is, yet he knows he can't endanger the investigation that way. Thankfully, there was nothing predictable about the turn of events. Instead, I was on the edge of my seat as Eve and Matt get closer to danger, and closer to each other, as they struggle to figure out what parts of their relationship are real. 
The story and characters kept getting better as the book went on, as all the little details come together and we wonder if Matt will be able to step off his hero platform long enough to be "normal" with Eve. It may have started as a 3, but after reading the last page I give this book 4 hearts and would absolutely read the next in this new Alpha Ops series!