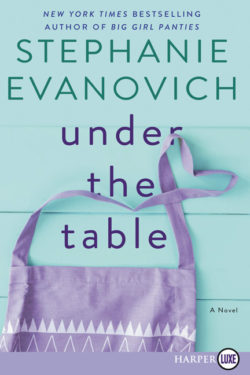 Author

Stephanie Evanovich

Release Date

April 16, 2019

Publisher

William Morrow

ISBN/ASIN

9780062887580

Our Rating

Reviewed by

Michele Rioli
Our Review
UNDER THE TABLE is a beautifully written romance tale that stars Zoey Sullivan, a pretty, resourceful lady. Sadly, her marriage failed. She is starting over in New York city and is currently living in her sister's flat. She isn't divorced yet, but her ex is driving her up a wall and she needs distance. Hence, the move to New York.
Zoey's sister lives a cavalier life and has a bunch of boyfriends. Her sister, Ruth, says she needs to get out, socialize and to quit moping. Zoey dreams of reviving her life long love of cooking as an exclusive chef. It sounds like a cooking job is just her ticket to freedom. Can she make a go of it?
Her client list is growing and recently a rich computer guru, Tristan Malloy, hires her to cook a business dinner for him at his apartment. He is good looking but his outfit screams the sixties, his hair is cut wrong and he lacks self esteem. Zoey offers to help him coif a new image that projects confidence. Tristan accepts her friendly help and goes from a shy nerdy guy to Mr. GQ cover model material, all in a matter of weeks, under Zoey's tutelage. Yowsa! He is one stunning hunk! However, with all the extra time spent with Tristan, Zoey develops a serious crush. Plus, Tristan is bewitched by Zoey's lively personality and buxom beauty. Has Zoey found her Mr. Right? Will their friend status change into something more?
UNDER THE TABLE sparkles and sighs with romance as a computer geek hires a charming, curvy cook to prepare a dinner at his apartment. Tristan is at a loss socially and accepts Zoey's help to transform him into a stud muffin with swagger. Sparks fly between them along the way. Has Zoey found her perfect soul mate? Will Zoey's Ex throw a monkey wrench into her plans and ruin everything? Ms. Evanovich pens a smart story filled with sass and suspense. Things go haywire and Zoey just might lose the man of her dreams. I just love a good story that has humor, romance, and an irresistible plot that leaves you wanting more! Never fear, this story has it in spades! UNDER THE TABLE is downright dishy, dreamy and delectable!