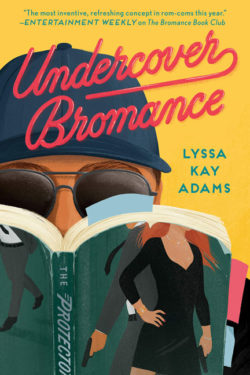 Author

Lyssa Kay Adams

Release Date

March 10, 2020

Publisher

Berkley

ISBN/ASIN

9781984806116

Our Rating

Reviewed by

Jo
Our Review
UNDERCOVER BROMANCE is a fast-paced read and not at all what I was expecting.  Big, burly, successful men who are in a bromance book club had me laughing out loud at times. This is the second book in the BROMANCE BOOK CLUB series, and even though I haven't read the first book yet, I didn't feel lost. This is Mack and Liv's story and oh, what a story it is!
Liv is a pastry chef at a restaurant in Nashville that is owned by a celebrity chef. The chef is also a reality TV star who screams at, ridicules, and embarrasses his staff. But that's not all he does, and it isn't pretty. When Liv finds herself in an awkward position and is fired when she speaks up, she's surprised at the help she receives.
She and Mack know each other only through her sister's husband, and Liv is shocked that Mack is willing to help take her ex-boss on. Especially because she thinks Mack and Royce are friends.
The book club, its members, and its books play a major role in the story. Liv's friends and family are funny. The farm she lives on is a hoot, complete with a man-hating rooster and a hippie landlord.
UNDERCOVER BROMANCE has plenty of laughs and is filled with family and friends. The characters have you rooting for them, and I thoroughly enjoyed myself. There's a nice closure with an epilogue that takes place six months after the story ends. The cover is spot on. I look forward to reading more in this series! 
Ms. Adams is new to me, and I look forward to reading more of her books.