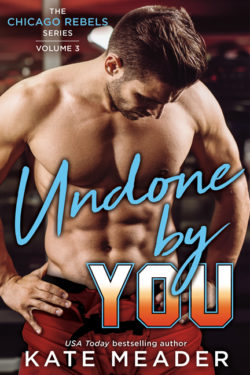 Author

Kate Meader

Release Date

March 5, 2018

Publisher

Pocket Star eBooks

ISBN/ASIN

9781501182907

Our Rating

Reviewed by

Jo
Our Review
UNDONE BY YOU is book three in the CHICAGO REBELS SERIES by Kate Meader. It continues the series nicely but doesn't concentrate on hockey, the hockey team, or the owners as much as the two previous books did. The is the story of Cade, who plays defense on the team, and Dante, the team's general manager.
Dante has previously come out as gay. He's in his thirties, estranged from his parents but still in contact with his sisters and their families. Cade is only twenty-three but seems to know what he wants and it's Dante. The relationship is wrong on many levels since Dante is Cade's boss and in a position of authority. Cade only knows he's never felt like this before with anyone but Dante and puts his trust in him. But Dante has his doubts since Cade hasn't even come out yet, the younger man not wanting to destroy the close relationship he has with his football-coaching dad.
The story is filled with a lot of angst and hurt. Secrets, passion, and laughter fill the pages of this close-knit hockey team and the relationships therein. The owners of the team, Harper, Isobel, and Violet, are back and trying their best to fulfill the requirements of their dad's will in order to keep the team. Will they be able to do it? The interactions of the teammates are what I've come to expect, but done even better in UNDONE BY YOU.
There is some closure but not as much as I was hoping for. There is a fourth book in the series, HOOKED ON YOU, which I'm looking forward to reading. Unfortunately, I have to wait until May to do so. In UNDONE BY YOU, there are different stories going on, but they all tie back to Cade and Dante. There continues to be depths to the characters even though this is the third book in the series. There is a potential for happily-ever-afters on several fronts.
Meader is an author whose books I enjoy reading. They all have a bite to them, and the stories and characters are well developed. Since M/M romances are not a genre I usually favor, I was surprised that I liked it as much as I did. The book is well written, including the sex scenes. The novella, IN SKATES TROUBLE, starts the series off, and I plan on reading it as well.