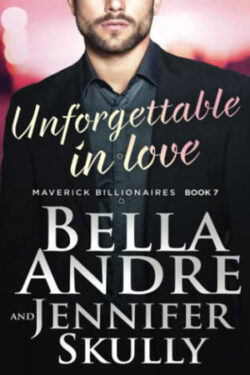 Release Date

January 20, 2022

Publisher

Maverick Oak Press, LLC

ISBN/ASIN

B094369MSZ

Our Rating

Reviewed by

book lover
Our Review
UNFORGETTABLE IN LOVE, book 7 in The Maverick Billionaires series by Bella Andre & Jennifer Skully, is a surprise-baby book.
Lyssa Spencer and Cal Danniger work for Lean On Us, a nonprofit started by Lyssa's brother to help veterans and their families. Lyssa is the youngest sister of the Maverick Billionaires. While she loves her brothers, they treat her like a child. Only her new boss, Cal, appreciates and respects her abilities.
The Mavericks are Cal's best friends and business partners. As much as Cal is attracted to Lyssa, he knows it would end his friendship with her brothers if he acted on his feelings. But working with Lyssa, he sees how smart, hard-working, and dedicated she is, and he finds his attraction to her impossible to resist.
After a passionate night on the flight home from London, Cal vows never again until Lyssa discovers she's pregnant. Now all bets are off, and Cal will do anything to prove to Lyssa he's worthy of her love. A great read that I recommend!