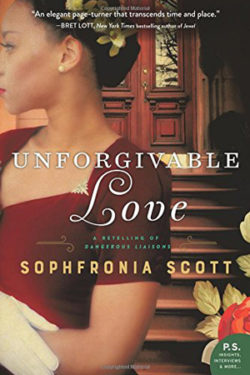 Author

Sophfronia Scott

Release Date

September 26, 2017

Publisher

William Morrow

ISBN/ASIN

9780062655653

Our Rating

Reviewed by

Jo
Our Review
UNFORGIVABLE LOVE is a twist on the movie, Indecent Proposal, with a cast of African American characters. The story involves secrets and betrayals amidst a love story. The story is set in the late 1940's in Harlem and Westchester County, New York but also takes place in North Carolina and Paris, France.
Each chapter concentrates on one of the main characters and is told from that character's perspective. The date and where that part of the story takes place is revealed at the beginning of each chapter (as the heading.) The prologue takes place in 1925 and 1934 and sets the stage for both Val's and Mae's stories respectively.
Mae is at the center of the story and has her hand in everyone's life. She has to be in charge at all costs and likes to present to others a front that's so unlike her. She portrays herself as a pillar of the community and an esteemed member of her church. She acts as a friend and confidante to all while simultaneously sabotaging their trust as well as their relationships with her and with each other.
Mae has dirt on everyone, so of course everyone jumps to do her bidding–until they don't. Mae has Val on a tight leash, or so she thinks, until he starts to have a mind of his own and a change of heart. Val needs to have women around him. He's not one for relationships, or so he thinks. Unfortunately, he's so sure of himself that he sends out so many mixed messages, which do nothing but hurt him in the end.
As the story unfolds, the vivid descriptions made me feel that I was there. I could feel the heat, the breezes, the cooling rain and the dirt between my toes. The story flows seamlessly between locations and characters, but I didn't always like the betrayals and blackmail that was going on.
The characters have a depth to them, but we don't learn all we can about them. When events happen, we don't always see the effect on the others, which is detrimental to the story since it seems like a part of the story that needs to be told. Aunt Rose is a nice addition and has grace and poise and a real affection for her nephew, Val, which he reciprocates. Her home in Westchester is always open to guests – both those she invites and those she doesn't.
Cecily and her mom are often pawns used by others but have feelings that aren't always taken into account. Kathleen is a married woman who often forgets that fact as she spends the summer in Westchester. 
The church plays an important role, as does family. There are tragic events and some happy ones too, but the closure fell short for me. There seems to be a new thread regarding Sam and Cecily, but it's never brought to fruition, even in an epilogue. There are other loose ends as well that didn't get the attention they needed.
Scott is a new-to-me author. I will give a few of her other books a try to see if I get the closure I need.