Until I Met You (Restoring Heritage)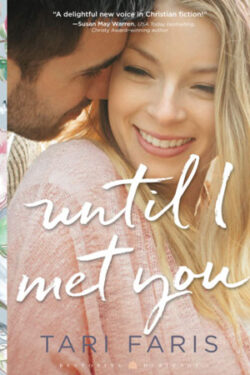 Author

Tari Faris

Release Date

September 8, 2020

Publisher

Revell

ISBN/ASIN

9780800736484

Our Rating

Reviewed by

Jo
Our Review
UNTIL I MET YOU is the second book in the RESTORING HERITAGE series, and I can't wait to read more, including the first book, YOU BELONG WITH ME. Clean, wholesome, with a small-town feel that has forgiveness, God, family and friends at its core, UNTIL I MET YOU is a lovely book that fully captured my interest!
Bad things sometimes happen to good people, but you have to learn to forgive and get on with your life—that's the message this book sends. Nate was a bad boy in his younger days. He's now a pastor in the small town of Heritage, which is trying to restore its town square. His brother, Austin, is temporarily in town, working on the restoration and trying to save his dad's landscaping business. He and Nate no longer see eye to eye, and there's a lot of angst in their relationship as a result. Libby is the new librarian in town, a transplant to Heritage, brought there by her brother and his wife.
The story has decent pacing and wonderful descriptions of the town and its people. There are multiple stories going on that are woven together nicely. Austin and Libby have an attraction but seem to be fighting it due to things in their pasts. Nate is beloved by most of the town except for his brother and Olivia, who wants more than he's willing to give. The interactions between the characters felt real, filled with love, problems, and plenty of flaws. Learning to communicate is the key for all of them! There is nice closure and a preview of the next book in the series that left me wanting more.
Ms. Faris is a newly published author, and I look forward to reading more of her books (and not just those in this series.) Her style of writing and clean romance drew me in from the first page to the last.