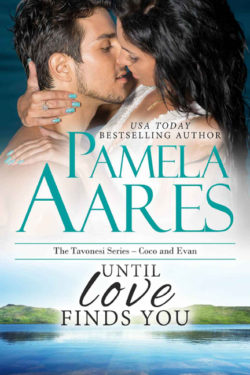 Author

Pamela Aares

Release Date

September 3, 2017

Publisher

SeaStar Press

ISBN/ASIN

B0752G8H8G

Our Rating

Reviewed by

SAS
Our Review
UNTIL LOVE FINDS YOU is Pamela Aares's 10th installment in the Tavonesi series, and like the previous books in the series, it is a fabulous read from the first chapter to the last chapter. The novel is a standalone romance with an happily ever after, although I would recommend reading the previous books in the series for complete enjoyment of book.
UNTIL LOVE FINDS YOU features Coco Tavonesi, a 23-year-old beauty who is an inspiring photographer and author, and is heavily involved in the local women's shelter, Inspire. Coco has built a wall around her emotions, partially due to the traumatic experience with her now ex-boyfriend, Helmut. Evan Forbes is the multi-billionaire CEO of Andreon–a flourishing technology and software company–yet he is suffering from a lack of emotional connections in his life. Evan's best friend turned therapist, Murray, convinces him of his need to seek out more connections and emotional relationships in his life. Forbes resigns as the acting CEO at Andreon, seeking a more fulfilling task for himself, and that is how he meets Coco.
Evan goes on a bee tour, lead by Coco's brother, Adrian, and enlists his knowledge to help Coco with her computer problems. The budding relationship between Evan and Coco is intriguing throughout the entire story, while they both must overcome their emotional trauma and differences. Evan discovers that Coco's computer is being hacked by a cyber-criminal who has his sights set on the Tavonesi family. Evan's knowledge of hacking, coding, and the Andreon system gives him the confidence to annihilate the hacker targeting Coco's computer and the entire Tavonesi family. 
The story is told in third person point of view on behalf of Evan and Coco. The story of Evan and Coco will leave you wanting more of them and the entire Tavonesi family. UNTIL LOVE FINDS YOU is well written, with excellent grammar use, and has steamy chemistry between Evan and Coco. Both Evan and Coco are searching, although unconsciously at the beginning, to heal their emotional psyche. I highly recommend reading UNTIL LOVE FINDS YOU, a sensual story with a plot line that ties into the romance of the two main characters, and supporting characters! 
The entire outstanding Tavonesi series by Pamela Aares is:
Book 1. Love Bats Last
Book 2. Thrown By Love
Book 3. Fielder's Choice
Book 4. Love on the Line
Book 5. Aim for Love
Book 6. The Heart of the Game
Book 7. Love in the Vineyard
Book 8. A Very Daring Christmas
Book 9. No Stranger to Love
Book 10. Until Love Finds You