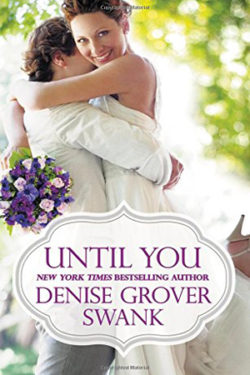 Author

Denise Grover Swank

Release Date

May 30, 2017

Publisher

Forever

ISBN/ASIN

B01HBK27AW

Our Rating

Reviewed by

LJT
Our Review
I am completely enjoying Denise Grover Swank's BACHELOR BROTHERHOOD series. UNTIL YOU is book number two, and it can be read as a standalone. I liked how some of the characters from the first book showed up in this story. This is the second novel that I have read by Ms. Swank, and I can't wait to read more of her work.
Lanie Rogers is an extremely interesting character. She has worked for the same retail company for the past ten years, and as a result, has become very successful on a professional level. Due to her intense travel schedule, she doesn't own or rent a home, have a serious boyfriend, or own a car. She and her assistant travel around the country opening women's boutiques, while enjoying the cities they temporarily call home. Women flock to this unique boutique chain, and the secrecy and frenzy surrounding each opening is quite remarkable.
Lanie is in Kansas City to open a new store and be a part of her cousin's wedding. As a bridesmaid, she is required to attend almost all of the pre-wedding festivities and photo sessions. Being paired with groomsman and attorney Tyler Norris is not a hardship, as they both find each other attractive and smart. Tyler is a known womanizer and he has no desire to settle down, that is until Lanie pops into his life. They are both into a short-term fling, which after a only a few weeks evolves into true love.
This is an engaging and nicely written novel. Lanie and Tyler have an amazing connection and Ms. Swank does an excellent job of creating sexual tension, longing, and desire. I liked how Ms. Swank developed Tyler's relationship with his youngest brother, which contributed to Tyler's newly discovered need to have serious and supportive relationships. Overall, this is an entertaining read that will keep you engaged from start to finish.