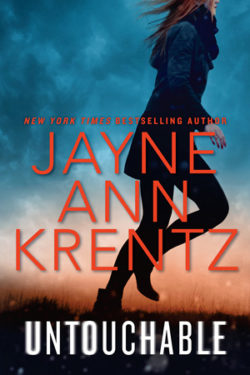 Author

Jayne Ann Krentz

Release Date

January 8, 2019

Publisher

Berkley

ISBN/ASIN

B07C6H8GFG

Our Rating

Reviewed by

AngelaG
Our Review
When it comes to storytelling, to me, Jayne Ann Krentz is a reigning queen! Her stories always involve suspense and lead characters into some dangerous situations. UNTOUCHABLE is no different.This story is about Winter Meadows and Jack Lancaster. Both of these characters have an awesome backstory, but I think that Winter's is more interesting…mainly because I already knew Jack from the other books about his foster brothers.
Winter Meadows has a talent, one that she has used in the past but has turned into a career as a meditation therapist. And one of her most interesting clients is Jack Lancaster. Jack is a lucid dreamer. Something about him really stirs her senses, but dating clientele is the way to not get more business. But when he saves her from a dangerous situation and starts to connect dots to a danger from his past, it soon becomes time to team up.
Jack and his foster brothers have been chasing Quinton Zane for years. Now the time has come for him to finally get his chance to catch Zane and stop him, but only if he can stay one step ahead of his prey. Passion and danger collide when Winter and Jack give in to their attraction, because the danger continues to follow them. Zane gets closer to finishing his job of destroying Jack and his brothers, and Jack is the first one to go.
UNTOUCHABLE is phenomenal! Jack is a really interesting character. He reminds me of a sexy teacher with serious alpha vibes that come up when you least expected it. He is very serious, and I think at times his somewhat dry humor made the book more interesting. The chemistry that he and Winter shared in the book just made my reader's heart sigh with romantic happiness. And Winter is a very strong female character that I really enjoyed.
I have to admit, one of my favorite things is that this book starts out in Eclipse Bay! Any fans of JAK know the importance of Eclipse Bay in her other series, as well as Arizona Snow. I think that woman gets better every time she makes an appearance in a book (and I write that with a big smile on my face).
Overall, AMAZING! Suspense, passion, danger, and the conclusion to an awesome storyline. All of the Salinas brothers' books have been fabulous, and I am hoping that even with the conclusion of this storyline there are still more to come from this group of characters. Two thumbs up from me and an RJ RECOMMENDED READ. Happy reading!