Up in Flames (Flirting with Fire)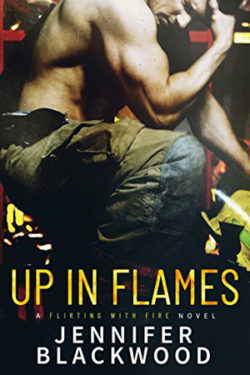 Author

Jennifer Blackwood

Release Date

October 9, 2018

Publisher

Montlake Romance

ISBN/ASIN

9781503903487

Our Rating

Reviewed by

Jo
Our Review
UP IN FLAMES is a nice continuation of the FLIRTING WITH FIRE Series. We're reunited with characters we've met before, and it was nice to catch up with them. This is Reece and Sloane's story, and it's hot, hot, hot—and not only because of the fires being fought by Reece and his crew of firefighters. Sloane just happens to be one of the ER nurses on duty most of the time when there have been injuries needing treatment, and she's not as immune to Reece as she may think. Although they've known each other for years, since she's best friends with Reece's sister, Erin, they have a relationship that's filled with animosity and barbs meant to hurt. Things change when Sloane bids on Reece at an auction and wins his services for a month. He has to complete four chores for her at her request, and things take an interesting turn.
Meet Peaches, the rescue dog that he has to foster until she's adopted. She is not a man's dog at all and elicited a lot of laughs at Reece's expense! There are happy and sad moments as Reece and Sloane take one step forward and two or three steps back. Others see their chemistry, but Sloane and Reece are so burned by past relationships that they've isolated themselves.
The story is filled with family and friends and an emotionally rich romance.The characters have a depth to them, and there's a nice happily ever after. The last chapter, which takes place one year later, gave me some of the closure I was looking for but didn't go far enough. There are definitely more stories to tell, and I can't wait to read them!
Ms. Blackwood is a fairly new-to-me author, only having read BURNING UP, the first book in the series. I look forward to reading more of her books, and not only those in this series.