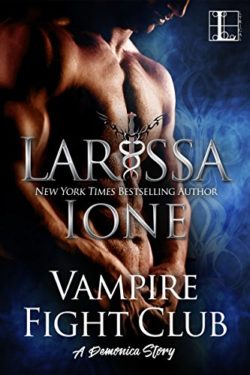 Author

Larissa Ione

Release Date

November 28, 2017

Publisher

Lyrical Press

ISBN/ASIN

B072Q8X4TV

Our Rating

Reviewed by

Raonaid
Our Review
Nathan "Nate" Sabine is a rare, day-walking vampire. He is a manager at a demon-operated vampire club with a secret underground fighting arena. Nate feels dead inside until Vladlena walks into his office for a medic position. When she attracts his demonic boss' attention, he risks everything to protect her. Will Nate lose yet another woman to fate's cruelty? Or will he bet everything just to keep her safe from all harm?
Vladlena "Lena" Paskelkov is a hyena shifter, who cannot shift into her animal form. She works as a nurse at Underworld General. Lena vows to avenge her brother's death by exposing Thirst's link to illegal blood fights. She applies for a medic position at the vampire club. Danger lurks in every corner, yet Lena continues her search for proof of the club's hand in her brother's demise. Can Lena expose Thirst's darkest sin? Or will she become the club's latest victim?
Nate comes across as a cynical jerk at the beginning of the book, yet he redeems himself throughout the story. I can understand his reasons for behaving so crass, especially around Lena. I like how Lena revitalizes Nate for the good. She is nothing like the usual type of women he prefers; however, her innocent allure attracts him. But what I love the most about Nate is the gamble he willingly takes for Lena's sake. She gives him the much-needed incentive to confront his demonic boss for good.
Lena steadily grew on me. She starts out timid and sheltered, yet the combination of her brother's passing and her looming death sentence prompts Lena to trek into dangerous waters. I like how Lena finds the courage to stand up against Nate's brand of danger. Despite being in unfamiliar territory, she never let fear interfere with her natural instinct to heal. But what I like the most about Lena is how her desire to protect herself from all evil.
VAMPIRE FIGHT CLUB is book 6.5 in Larissa Ione's popular paranormal series, DEMONICA. This story made me realize how much I truly miss this series. It feels like I am being reunited with beloved, long-lost friends. I love that Eidolon, Shade, Wraith and other characters from previous books make sporadic appearances throughout the story.
VAMPIRE FIGHT CLUB is a tantalizing glimpse into Larissa Ione's DEMONICA and LORDS OF DELIVERANCE's world. I love how the author has such a wide variety of supernatural creatures beyond what normally appears in paranormal romances.