Vendetta Road (A Torpedo Ink Novel)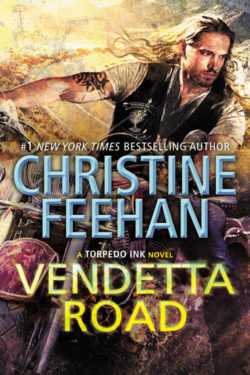 Author

Christine Feehan

Release Date

January 28, 2020

Publisher

Penguin

ISBN/ASIN

B07STRWD9R

Our Rating

Reviewed by

BPoston
Our Review
VENDETTA ROAD is the story of Isaak (Ice) Kovak and Soleil Brodeur, two people who have endured horrible things in their past whose paths accidentally cross. Soleil is running away from an abusive fiance, who wants her dead. She comes across Ice while hiding in a biker bar. He is attracted to her but knows she should be nowhere near this dangerous place. He needs to get her away to a safe place immediately.
Soleil is drawn into a world she has never before experienced. The world Ice lives in is nothing she has never heard of, but after Soleil explains why she ran to the bar, she knows in her gut he will keep her safe.
As things start to unfold and the danger gets ramped up, Soleil and Ice will be forced to endure more than they ever have before. Will this bring them together, or tear them apart?
VENDETTA ROAD is the third book in the Torpedo Ink book series. It is rough to read.  The story has a lot of sex, and learning about what Ice endured in his youth is ugly and painful to read. I like this series, but it is not for the faint of heart. Christine Feehan doesn't sugarcoat the ugly, but then again, life is not always pretty.