Wait for Dark--A Bishop/SCU Novel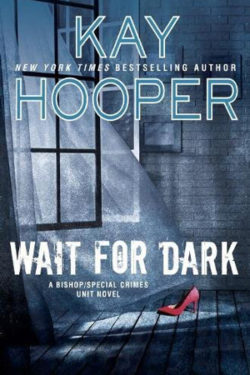 Author

Kay Hooper

Release Date

March 7, 2017

Publisher

Penguin Books

ISBN/ASIN

B01AHKXIXI

Our Rating

Reviewed by

Angela G
Our Review
Clarity, North Carolina is having an unforeseen number of deaths in a short time frame. None of the deaths appear to be related, and all appear to be accidents. But something is not sitting right with Sheriff Mal Gordon. He knows the people of Clarity, and he knows there is something more at work than what the accidents appear to be. The only thing linking any of them is a cryptic note each victim received more than twenty-four hours before their deaths. It is time to call in a team that may be able to help.
The Special Crimes Unit of the FBI has a unique skill set that no one else has. Each of the team members have some form of psychic ability. Now it is time for Hollis Templeton to confront her fears and face the evil that seems to be stalking the town of Clarity. There is something in the winds of Clarity, and the members of the team can feel it. Evil is walking the streets, but it is an evil that is hiding and playing a game of cat and mouse. But it has brought the one thing it wanted, Hollis.
Hollis is unique even to the unit, but Reese DeMarco knows she will need to let go of her fear to catch the monster hunting the streets of Clarity. For not only are the town inhabitants prey for this killer, but so is Hollis. She is the ultimate player in the monster's game, and he has been waiting for her to appear. Now Hollis will have to trust in her powers and the powers of the team, or she may not make it out alive, even with Reese there.
WAIT FOR DARK is another great read by Kay Hooper. I have been a fan of her Bishop/SCU series for years but moved away from it. This book has brought me right back. While not a typical romance novel, there is romance thrown in to flavor the suspense of the story. And there is definitely suspense throughout the book. Kay Hooper writes in a way that makes it difficult to determine the true killer during the story, which kept me intrigued the whole time. Hooper is a master at blending suspense and danger.