Waiting for an Earl Like You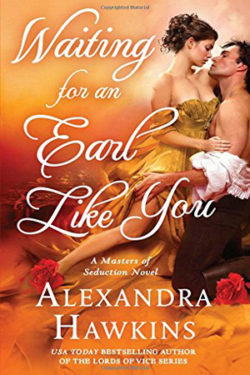 Author

Alexandra Hawkins

Release Date

January 3, 2017

Publisher

St. Martin's Paperbacks

ISBN/ASIN

978-1250064745

Our Rating

Reviewed by

Rhea
Our Review
In Alexandra Hawkins's WAITING FOR AN EARL LIKE YOU, Miss Olivia Lydall has a passionate spirit and has quite grasped the art of being a lady. Growing up without a mother has not helped her case. Growing up with twins Gideon and Thorn Netherwood hasn't helped either. Gideon and Olivia were inseparable as children, so it was heartbreaking when Gideon suddenly left, leaving Olivia alone, save for his brother, who was aloof and kept Olivia at arm's length.
Thorn never understood his brother's departure and doesn't understand Gideon's sudden reappearance. All he knows is he has turned into his brother's keeper, reminding him of his duties to their mother, and tracking him down when Gideon thoughtlessly skips out on his own homecoming party. Seeing Gideon alone with Olivia Lydall wakes up feelings Thorn thought had been successfully buried. Gideon is too reckless and selfish to be dealing with someone as naïve as Olivia, so Thorn sets his mind to thwarting any possibility of a budding romance between the two.
Thus begins a rivalry between the two brothers over their childhood friend. Thorn is convinced Gideon will carelessly break Olivia's heart. Gideon is convinced that Thorn will do the same. But one night, Thorn pulls an old childhood trick and kisses Olivia, pretending to be Gideon, and he realizes he doesn't just want Olivia away from Gideon. He wants Olivia away from Gideon and into his own arms. But now he has started a dangerous game that may end up in a loss for everyone.
WAITING FOR AN EARL LIKE YOU is book 3 in the Masters of Seduction Series by Alexandra Hawkins. Characters Thorn and Gideon help to create a story that is fun and light-hearted, but also shows that while twins have a close connection, they still can have secrets from each other. Alexandra Hawkins creates the perfect complement for Thorn in Olivia Lydall. Olivia is sassy, compassionate, and naïve, yet able to handle Thorn's gruffness, rudeness, and overall standoffish attitude towards her. For anyone looking for a historical romance with love, intrigue, and a bit of mischievousness, this is the perfect book to pick up.
A RECOMMENDED READ