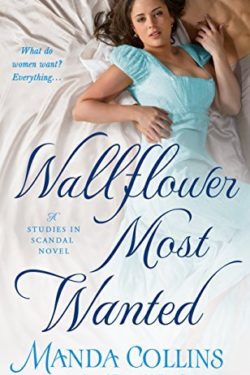 Author

Manda Collins

Release Date

January 30, 2018

Publisher

St. Martins

ISBN/ASIN

9781250109903/B073TS79RH

Our Rating

Reviewed by

Michele Rioli
Our Review
In Manda Collins' third novel in the STUDY IN SCANDAL series, a beautiful lady and an accomplished artist, Sophia Hastings, accidentally falls off a low cliff after being startled while standing too close to the edge while painting. She is rescued from her fall by an incredibly handsome reverend, Lord Benedick Lisle. But wait…they hear two men arguing at the top of the cliff and it sounds menacing. Sophia wants to know who it is, since it involves an artist. Determined to uncover the contentious men, Sophia sticks her nose where it doesn't belong, putting herself in danger. Lord Benedick insists upon helping Sophia, only to keep her safe and protectively watch over her. Hmm…is he falling for the fetching female?
Lord Benedick never fit into high-society and Lady Sophia always loved the country. When she absconds to Beauchamp House to stay with her sister and sister-in-laws, she never imagined she would find romance too. From their close encounter on the beach, the vicar is smitten with her and Sophia is enjoying the vicar's attentiveness after her fall. Is it possible these two lonely souls are falling in love? Only, danger lurks nearby. Will Sophia inadvertently fall into a trap? Will Lord Benedick keep Sophia safe and his heart too? Or will they tumble head over heels in love?
WALLFLOWER MOST WANTED is an exemplary read from its beginning to its satisfying ending. There is flowing narration, a mesmerizing plot, a blooming romance with a dashing hero and a darling heroine! A clever mystery with all the hallmarks of murder, intrigue and conspiracy. Lady Sophia knows there is an adventurous side to her when suddenly her confined world bursts into a dodgy life full of mystery and falsity concerning counterfeit art. Only an exquisitely handsome reverend, Lord Benedick, is solicitous over Sophia's welfare, most assuredly after he saves her from a nasty fall off an outcropping. Romance sneakily blossoms between them and they rush to dispel any rumors of it. Because what would people think of the vicar then?
The author, Ms. Collins, does a splendid job of breathing new life into undeniable chemistry between two dedicated, optimistic people. My favorite moment is when Lord Benedick keeps visiting Sophia after her fall and her sister questions his intentions. I love a man who cares! WALLFLOWER MOST WANTED is beautifully crafted and offers a double helping of romance. Definitely swoon-worthy!