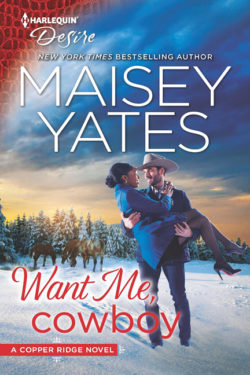 Author

Maisey Yates

Release Date

November 6, 2018

Publisher

Harlequin Desire

ISBN/ASIN

B07BYVN7N4

Our Rating

Reviewed by

LJT
Our Review
WANT ME, COWBOY by Maisey Yates, is the fifth book from her COPPER RIDGE series. Although I was able to enjoy this story as a standalone, I definitely plan on reading the earlier books in this series. The secondary characters have a lot of personality, and I would like to learn more about them. The cover is pretty, and it perfectly depicts the couple's relationship at the end of the book.
Personal assistant Poppy Sinclair has worked for rancher and businessman Isaiah Grayson for ten years. She has also been in love with him for ten years. So when Isaiah decides to settle down, he asks Poppy to find him a wife. After interviewing potential candidates, Poppy kind of freaks out and quits, which results in Isaiah offering her the opportunity to marry him. Isaiah believes he is not capable of love or emotion, so a marriage with companionship, sex, and babies is all he can offer. Poppy wants love and family in her life, since growing up in the foster care system provided nothing but heartache.
This is a very interesting romance, although slightly repetitive at times. Isaiah is good with numbers and is only able view the world in black and white. Love and emotions are a gray area, which he really has a difficult time navigating. Poppy understands Isaiah's shortcomings and is able to help him fill in the emotional gaps he is missing. Their sexy times are hot, due to Isaiah's dominance and Poppy's innocence. Overall, a solid read.