Wedded Bliss, The Wicked Worthington Series, Book 2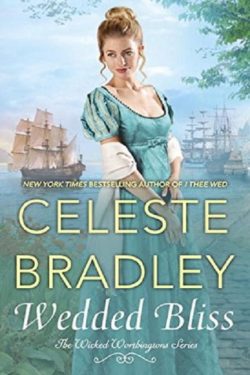 Author

Celeste Bradley

Release Date

May 2, 2017

Publisher

Berkley

ISBN/ASIN

9780451475985

Our Rating

Reviewed by

Michele Rioli
Our Review
Tricks and kisses ahoy! WEDDED BLISS is a magnificent romance novel starring a hunkalicious ship captain and a gutsy, curvaceous lady in the WICKED WORTHINGTON series. Bliss Worthington mistakenly marries the wrong brother on a dark, rainy night. Actually, her deceitful husband, Morgan Pryce, saves his half brother, Neville who is the Duke of Camberton, from a scheming, greedy wife. Although, Morgan doesn't know that Bliss isn't like that at all. Morgan's traitorous Uncle Oliver leads him to believe things that aren't true, for the sake of the family name and his own greed. His half brother Neville is blasted mad at Morgan for stealing his fiancé. Thus, as the world turns…
The drama unfolds as Bliss plans to bedazzle Morgan with her wit and stubborn will. She uses her feminine wiles to confound Morgan at every turn, hoping to gain the upper hand. She hopes to convince him to dissolve their marriage vows because she is in love with Neville not Morgan. Only, Morgan is a very attractive man! Bliss has a hard time concentrating on her escape when he teases her to distraction.
Morgan is affected by Bliss' beauty also, just like his besotted half brother Neville. Morgan might be a confirmed bachelor and a confident captain, but he can't forget the taste of Bliss' delicious lips. Bliss hides her true motives from him and Morgan has secrets of his own. Will Bliss be his undoing? Will he be able to keep his end of the bargain to his uncle? Do Morgan and Bliss ever reveal their true feelings for one another?
WEDDED BLISS is a stunning mix of romance, suspense, humor and deceitful situations. Ms. Bradley delivers an emotional romance triangle with wacky family relationships and a marriage debacle of epic proportions that skates between absurd and a convenient affair. What a web of lies they all weave! Bliss Worthington ends up marrying the wrong man at her own wedding when her intended wears a deceptive costume. She digs in her heels to get herself out of the blasted mess. Morgan Pryce weds Bliss to keep his brother from the money hound. Only, an unexpected attraction develops between them, which derail their plans. Then, Bliss' family jumps in to save her from Morgan. There are conniving family members, surprising guests and non-stop high jinks that will guarantee many laughs. However, there are traumatic events that brought me to tears. The author does a fine job of portraying colorful characters with personalities to match! I just love the guests who arrive at Camberton house. They are a spectacular addition to the cast. WEDDED BLISS is brilliant! It sparkles just like champagne!