What A Difference A Duke Makes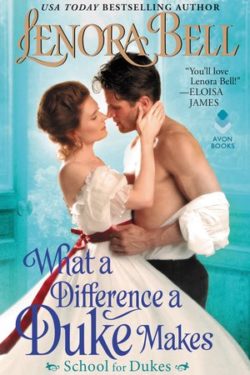 Author

Lenora Bell

Release Date

March 27, 2018

Publisher

Avon Books

ISBN/ASIN

9780062692481/B072L5PJ75

Our Rating

Reviewed by

Michele Rioli
Our Review
For a good hearty laugh, read WHAT A DIFFERENCE A DUKE MAKES. It is the first book in the School for Dukes series. The author spectacularly pens a sparkling novel with references to Mary Poppins that is superbly entertaining and very romantic. It stars a proud, private duke named Edgar Rochester and an orphaned, educated lady turned governess, Mari,-rhymes-with-starry, Perkins. Mari arrives at the Duke's house, under the guise as his governess, when actually she was booted out of Mrs. Trilby's superior governess agency. Mari is ushered into the Duke's home with high hopes for success after she impresses them with her upbeat attitude and proverbial charm.
Only, when the Duke is near Mari, sparks fly all over the place between them. Zing! Mari has butterflies. Edgar is tied up in knots when he is near her. Heavens to Betsy, will they kiss or avoid each other due to work issues?
A teaspoon of suspense, a dollop of fun, and a huge tablespoon of romance combine swimmingly in Miss Bell's winning novel, WHAT A DIFFERENCE A DUKE MAKES. You will love the devilish, dashing hero, the Duke of Banksford, Edgar, and cheerful, beautiful, Mari Perkins, heroine, who single handily corrals two rambunctious children who are just starved for attention. The Duke works many hours at his foundry, he is inventing a steam engine, with little time for his children. What does Mari do? She straightens them up, issues proverbs right and left, keeps a stiff upper lip, while loving them to death.
I laughed so much my sides hurt at all of Mari's funny sayings. She is one funny lady with a great sense of humor! Edgar is a bit of a grouch but Mari soon melts his heart, along with the kids. I fell in love with all of the characters and there are a lot! The author does an award-winning job infusing just enough humor without overdoing it, that's worthy of much applause. I absolutely loved this story and didn't want it to end. WHAT A DIFFERENCE A DUKE MAKES is charismatic, romantic and a hoot! Just like a fizzy Shirley Temple drink, bubbly, delicious and lots of fun!