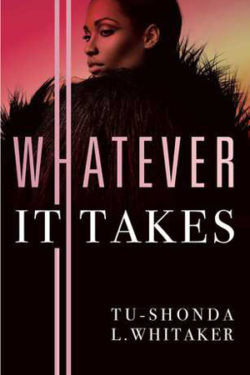 Author

Tu-Shonda L. Whitaker

Release Date

December 4, 2017

Publisher

Pocket Star

ISBN/ASIN

B071YCSK5C

Our Rating

Reviewed by

B. Nakia Garner
Our Review
In Tu-Shonda L. Whitaker's WHATEVER IT TAKES, each New Year's Eve, India Parker vows that she will no longer be alone. She is determined to have her happily ever after with a man who will love her, appreciate her curves, and keep up with her voracious sexual appetite.
When another new year looms around the corner, India starts to lose hope that she will ever find a man. But she sings a different tune when she drops off a camera at her girlfriend Joan's house, and Joan's 23-year-old son, Devin, answers the door. 
Despite the 13 year age difference and the obvious conflict of interest, India entertains the idea of embarking on a new relationship with someone she never expected to get involved with.
Despite this being a short novella, the author packs in a lot of flirting, drama, and sexual content. Each character has a strong and distinct personality, and the dialogue is sometimes funny, sometimes ridiculous, and all the time honest.
This tale could have benefited from being a little longer with additional information about India's dating history and more scenes with her and Devin to establish the part of their relationship that is nonsexual. 
But the pages that are here, are wildly entertaining.