When A Duke Loves A Governess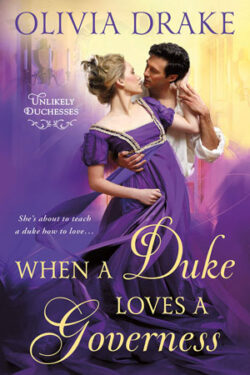 Author

Olivia Drake

Release Date

July 27, 2021

Publisher

St. Martin's Paperbacks

ISBN/ASIN

9781250174499

Our Rating

Reviewed by

Michele Rioli
Our Review
Secrets and suspense abound in Ms. Drake's third novel, WHEN A DUKE LOVES A GOVERNESS, in the Unlikely Duchesses series. The Duke of Carlin, Guy Whitby, hires a governess for his unruly four year old daughter. He spent years overseas and returns home to find his four year old daughter, Sophy, extremely spoiled and disobedient. Tessa James appears at his doorstep one day, applying for the job as governess. Guy hires her, even though her past is sketchy and doesn't have any references. Despite his apprehension, he is at wit's end, after the other governesses left swiftly after dealing with undisciplined Sophy. There's something alluring about Ms. James, her quiet beauty and reserved manner that attracts him. He gives her a chance to prove herself, despite his instincts that she's embellishing her qualifications. She intrigues him like no other woman. Is this a mistake having lovely Tessa nearby?
Tessa James, a pretty young lady, grew up in an orphanage. Making her way in the world has been very tough. She is currently employed at a milliner's shop. She is undeterred in establishing her own hat shop. When she hears gossip at her current employment that the Duke of Carlin is in critical need of a governess, Tessa immediately makes plans to make more money and maybe in the process hope to discover the identity of her noble father. Her dying mother left a pendant with her that has a family crest on it. Tessa hopes that by working in a Duke's manor she will be able to learn where her father lives. She tells lies to earn herself the position. Never in her wildest dreams does she fathom falling for the desirable, devilish Duke and his adorable daughter. Will a ravishing romance blossom between the gorgeous Guy and tempting Tessa?
Mystery and romance are in the air in Ms. Drake's latest novel, WHEN A DUKE LOVES A GOVERNESS. A bold, young lady inquires about a position as governess at the forbidding manor of the Duke of Carlin. What lies therein is schemes, untruths and more. Mystery is afoot and hidden desires are flowing. The Duke, Guy Whitby, an attractive gentleman, is in dire need of a companion for his rambunctious daughter. The Duke is an alluring and intense fellow, the opposite of Tessa's shy beauty and confident bravado. Guy didn't count on his attraction to a governess, or how her presence would tempt him beyond reason. Tessa also didn't count on her traitorous heart falling for a nobleman. What a wondrous plot the author weaves! This is first rate historical romance at its finest. Multidimensional characters, sweeping drama, and a meticulous plot beautifully tell a powerful love story. I couldn't put the book down until the very last page! WHEN A DUKE LOVES A GOVERNESS is a dazzling gem of a story!