When a Duke Loves a Woman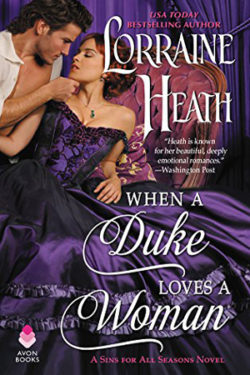 Author

Lorraine Heath

Release Date

August 21, 2018

Publisher

Avon Book Historical Romance

ISBN/ASIN

9780062676023

Our Rating

Reviewed by

DianaMcc
Our Review
WHEN A DUKE LOVES A WOMAN, by Lorraine Heath, is a wonderful story.
The Duke of Thornley's bride leaves him at the alter and disappears into the seedy side of London, Whitechapel. Thorne searches for his bride and is mugged and left for dead in the alley behind The Mermaid and Unicorn tavern.
Gillie Trewlove, left on a doorstep at birth is raised by a kind woman. Gillie works and saves her money and is now the owner of the tavern. Knowing how kindness saved her, she takes the badly beaten man into her rooms above the tavern. But he is no infant. He's an unconscious  seriously injured, handsome gentleman who has no business being in Whitechapel.
Class is what separates them. Over the week Gillie nurses Thorne she becomes enamored with him. As he slowly recovers they each find they are more attracted to the other one.  They come from different worlds and they both realize love is an impossibility. Instead he and Gillie become friends.When Thorne leaves he feels lost with out her. He finds him self returning time and time again to the tavern.
Her feelings for him grow even deeper and she admits to herself she loves him. Although she knows they can never be together, as society won't accept a bastard as the wife of a Duke. She knows her way around Whitechapel and agrees to help him find his bride just so she can be with him.
The more time they spend together Thorne realizes the one he wants to spend his life with, the one he loves is right by his side, helping him search for the runaway bride. 
They eventually find the bride and she loves someone else.
Gillie and Throne's love and commitment having grown so strong, he thumbs his nose at the ton and marries his sweet tavern owner.
The twists and turns of the plot kept me reading. The description and dialogue are outstanding.
I recommend this book with four hearts!