When She Dreams (Burning Cove, California, 6)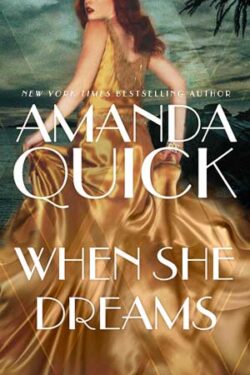 Author

Amanda Quick

Release Date

May 3, 2022

Publisher

Berkley

ISBN/ASIN

978-0593337783

Our Rating

Reviewed by

SJ
Our Review
WHEN SHE DREAMS returns to Burning Cove, California in the 1930s for a smashing romantic suspense! In author Amanda Quick's latest book, we're treated to gangsters and Hollywood glamour, as well as spies and murder. A super romantic suspense not to be missed!
Maggie Lodge works as an assistant to a mysterious advice columnist known as Dear Aunt Cornelia. But the older woman has gone missing, and Maggie's worried. Especially because someone is blackmailing Aunt Cornelia! So Maggie hires down-on-his-luck private detective Sam Sage to get to the bottom of the blackmailer.
Sam needs the work. Badly. And though Maggie is a little too reckless and forward, Sam is attracted. Maggie, used to giving advice, knows Sam could use some guidance, so she doesn't hesitate to help him. Their verbal banter is terrific, and the sexual tension between them builds throughout the story, giving the book a great balance between romance and suspense. 
The characters have depth, really enriching the story. Maggie can sometimes control her dreams (the paranormal aspect of the book) and is worried what might happen to her if anyone were to know–like committing her to an asylum. Sam is still smarting from a past that was both emotionally and physically draining, and he has trust issues, to say the least.
In the course of their investigation, they unveil the truth and navigate danger from without and within–because Sam and Maggie are falling in love, and if they're not careful, they might not live to see where their relationship might take them.
A very enjoyable read!