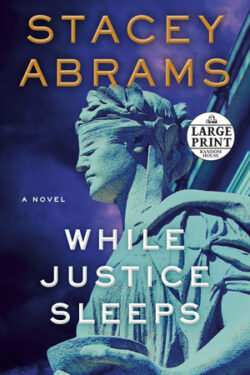 Author

Stacey Abrams

Release Date

May 11, 2021

Publisher

Doubleday

ISBN/ASIN

‎B08KSRQ7L1

Our Rating

Reviewed by

book lover
Our Review
WHILE JUSTICE SLEEPS by Stacey Abrams is a political thriller.
The setup at the start of the book was a little slow, but then it took off and I couldn't put it down
Avery Keene, a  young law clerk for Supreme Court Justice Howard Wynn, has a full plate between her job and dealing with a drug addicted mother. Then the news breaks that Justice Wynn has slipped into a coma. If that isn't shocking enough, Avery's life is turned upside-down when she's notified that Justice Wynn left instructions for her to serve as his legal guardian.
Plunged into political intrigue that goes all the way to the highest level of government, Avery works tirelessly to solve the clues Justice Wynn left for her that are tied to the most controversial case before the court.
 
WHILE JUSTICE SLEEPS had enough twists and turns to keep me up late reading. Add in the hint of a romance between Avery and Jared Wynn, Justice Wynn's estranged son, and this book has it all! 
Recommended Read