While the Duke was Sleeping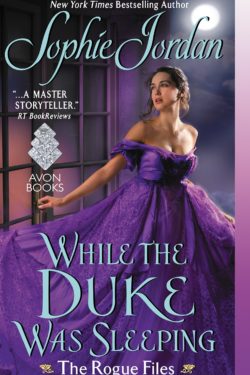 Author

Sophia Jordan

Release Date

October 25, 2016

Publisher

Avon

ISBN/ASIN

0062222546

Our Rating

Reviewed by

Dottie
Our Review
Since the first day that Marcus, the Duke of Autenberry, walked into the flower shop where Poppy Fairchurch is employed, she has had a crush on him. Being just a poor shop girl raising a younger sister, Poppy knows she has no chance with the handsome nobleman. But this doesn't stop her dreams of him or watching him whenever she has the chance. One day, keeping an eye on him as he leaves the shop, she sees him get into a fight with another man. Although the duke struck first, she is determined to save him. Poppy arrives by his side just in time to push him out of the way of a careening carriage. Just as she finds it impossible to avoid the out of control carriage, she is saved by the duke's opponent. But she finds that when she shoved the duke out of the way, he fell and struck his head. The duke's unconscious body is placed in a carriage to be taken to his home. Loath to leave him alone with just his opponent for an escort, she goes with them, only to discover that the other man is his half-brother. Trying to justify her right to accompany them, she claims to be the duke's fiancée.
Struan MacKenzie has a poor background, but in the years since his mother's death, he amassed a fortune that exceeds his father's due to his knack for numbers. He has longed for the day when he will come face-to-face with the man, but arriving in town he discovers his father is dead. Unlike his half-brother, Struan has never known a father's love. He's hopeful to at least have a brother, but the young duke is enraged at him from their first meeting.
When Poppy arrives at the duke's home, his family is fascinated with her and invites her to stay. Watching as Poppy dotes on the comatose duke, Struan cannot help envying him, but he knows that she is a liar. There is no way his haughty, aristocratic brother would wed a girl from the working class. So, he keeps an eye on her and the more he sees, the more intrigued he becomes. She is not meant for the duke, but she would be perfect for him, if he can only convince her.
A charming tale, WHILE THE DUKE WAS SLEEPING, the first book in New York Times bestselling author Sophie Jordan's ROGUE FILES series, companion to her DEBUTANTE FILES collection, appears to be a remake of the film WHILE YOU WERE SLEEPING, although it is now set in a historical background. Still, this is a witty, sensual historical romance that will keep readers enthralled. I could not help feeling bad for Struan with the way his brother and father treated him, but I really liked his stepmother and half-sisters who welcomed him with open arms. I also enjoyed the relationship between Poppy and her sister Bryony. At times, especially in the beginning, Poppy seemed to have her head in the clouds quite a bit, but she is always ready to fight for those she cares about. I enjoyed the scenes between Poppy and Struan with their lively banter and great chemistry.
Christmas, romance and a hunky Scotsman! That sounds like my kind of holiday; what else could you want? I always enjoy a story by Sophie Jordan and this one is no exception. This novel is a scrumptious start to a promising new series and I can't wait to read the next installment. A captivating read for fans of historical romance!