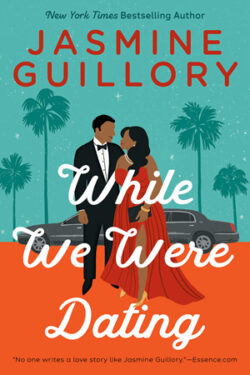 Author

Jasmine Guillory

Release Date

July 13, 2021

Publisher

Berkley

ISBN/ASIN

9780593100851

Our Rating

Reviewed by

Jo
Our Review
WHILE WE WERE DATING is the sixth book in THE WEDDING DATE series, and I've read and enjoyed them all except for the fifth book, PARTY OF TWO, that I somehow missed and is now on my TBR pile. All can be read as standalone books.
The story held my interest from the first page to the last with likable characters that have a depth to them. This is Ben and Anna's story, and we get to know them a little at a time. Their wants and needs, the stresses they're under, as well as what makes them tick, really comes through. I enjoyed delving into their lives and how they came to be supportive of each other.
Anna is an actress dealing with anxiety who wants to be the best she can be and get the best roles to showcase her talent. Ben is in advertising. He's unexpectedly tasked with being the lead of an ad where Anna will be the actress selling the product. They have instant chemistry, and the story only takes off from there.
The plot has a nice flow. While there is a lot of steaminess, it adds to the story. There are multiple stories being told, and they're woven nicely together. Ben somehow fits into Anna's life like no one else has before, but there's an expiration date to their dating. I liked their interactions with their families and how they focused on the jobs they each had to do. There are laugh-out-loud moments as well as serious ones dealing with therapy and mental illness. The nicely portrayed happily ever after gives closure to the book, though I felt it ended a little abruptly. I hope that means there will be a seventh book in the series since there seems to be more story to tell.
Ms. Guillory is an author whose books I've enjoyed. Her characters have a realism about them, and I feel we get to know them. I liked the cover. It was spot on!