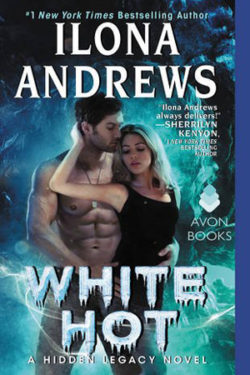 Author

Ilona Andrews

Release Date

May 30, 2017

Publisher

Avon

ISBN/ASIN

978-0062289254

Our Rating

Reviewed by

SJ
Our Review
In New York Times bestselling author Ilona Andrews' second novel in the HIDDEN LEGACY SERIES, WHITE HOT, Nevada Baylor's relationship with Connor "Mad" Rogan gets hot. This books is a perfect follow-on to BURN FOR ME and a thrill ride from beginning to end. You don't have to read the first book to understand this one, but the experience is much richer if you start from the beginning. 
What makes this book so much fun to read are the well-developed secondary characters, from Nevada's quirky family to Rogan's security team. Everyone has a history, and there's nothing two-dimensional about anyone or anything in this book. The plot is fast and furious, with Nevada uncovering more of her truth teller magic and Rogan just as mysterious as ever.
Watching the pair dance around each other, each seeming to want one thing from the other yet really wanting something else, made the novel exciting and complex. Rogan is a billionaire Prime (highest rank of magic user) and a killer. But he has a softer side only Nevada sees. 
Nevada has a mountain of responsibilities–to her family, her clients, and the truth. But with Rogan she can be herself. With danger from a conspiracy that keeps unraveling, sexual tension with Rogan–will they or won't they?–and her burgeoning power constantly keeping Nevada on her toes, the story works a magic all its own.
I can't wait for WILDFIRE, the third in this outstanding series, to release in July.
A RECOMMENDED READ