Who Wants to Marry a Duke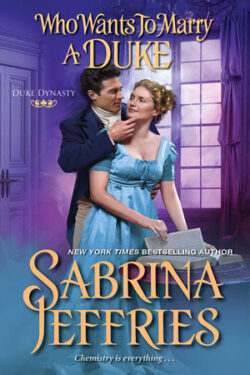 Author

Sabrina Jeffries

Release Date

August 25, 2020

Publisher

Kensington / Zebra

ISBN/ASIN

9781420148572

Our Rating

Reviewed by

Raonaid
Our Review
Marlowe Drake is the current Duke of Thornstock. He harbors a secret, even from his family. Thorn and his half-brothers investigate the suspicious deaths of their fathers. He suspects the chemist his older brother hires because of their shared past. Thorn never imagined he and Olivia would meet again. Someone wants to keep the past buried. Will Thorn's cynicism keep them a part? Or will his secret jeopardize their future?
Miss Olivia Norley is the only child of a baron. She agrees to assist the Duke of Greycourt with the investigation of his father's death. Olivia hopes to publish her findings and establish her chemistry career. However, Thorn stands in her way. Olivia refuses to be swayed by the irresistible man's charms again. Will Olivia's findings expose a thirty-year-old murder? Can she change Thorn's pessimistic outlook on love?
Thorn always struck me as the fun and carefree one in the prior books. I like how we finally get to know his true character. I love the fact that Thorn secretly writes comical plays. It feels right since he and his brothers are named after famous playwrights. I adore Thorn's closeness to his mother and siblings. There is little he would not do to protect them from harm, even from hurtful gossip. What I like the most about Thorn is his acceptance of Olivia's uniqueness. He is upfront about his understanding of chemistry. Plus, he also knows it is not a normal society lady's pastime.
Olivia is a woman after my own heart. She does not try to be someone she is not. Accepting the fact that she does not fit in with her peers is perfectly fine with Olivia. I admire that about her. I like that Olivia is a fan of comical play. It contrasts with her scientific interests. What I like the most about Olivia is her eagerness to share her accomplishments with Thorn. She knows that he does not understand chemistry, but she does not have to fear him ridiculing her about it.
WHO WANTS TO MARRY A DUKE is book three in Sabrina Jeffries historica romance series, DUKE DYNASTY. I recommend reading the previous books and novella to understand the on-going plot. New clues into the mysterious deaths of Lydia Fletcher's ducal husbands arise, along with some setbacks. I love how Grey, Beatrice, Gwyn, and Wolfe make appearances throughout the story. I just wish that Sheridan and Heywood did.
WHO WANTS TO MARRY A DUKE is a fun and delightful tale of two society misfits finding each other. I just love Sabrina Jeffries' spin of Regency-style, dysfunctional families. I am so delighted the author paired Vanessa and Sheridan together for the next book. 2021 cannot arrive soon enough.
A recommended read.