Why Do Dukes Fall In Love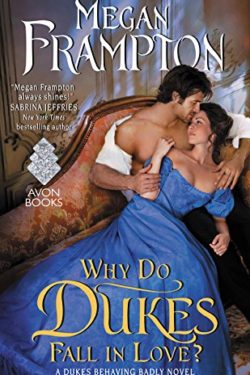 Author

Megan Frampton

Release Date

July 26, 2016

Publisher

Avon

ISBN/ASIN

0062412825

Our Rating

Reviewed by

Dottie
Our Review
Edwina's marriage was not built on love. Still, now that her husband is dead, she discovers that, despite eight years of marriage, she and her young daughter Gertrude have been left with nothing. Up until the last year of their marriage, Edwina's husband allowed her to handle the accounts that weren't that important. But as soon as the accounts became profitable and worthy of notice, he turned them over to his debt-beleaguered younger brother. As if, suddenly, he couldn't trust a female to manage them. That was a big mistake. His brother ran the accounts into the ground and now this same sibling tells Edwina that he can't take her in. Fortunately, Edwina's oldest and dearest friend Carolyn comes to her rescue. As the owner of the Quality Employment Agency, Carolyn finds Edwina a position as the Duke of Harlow's secretary.
Michael, the Duke of Harlow, is an arrogant, plain spoken man who demands honesty above all else. Having little patience with people, he is exasperated after interviewing fourteen male applicants for his secretarial position with none meeting his qualifications. Michael is startled to see that the fifteenth is a beautiful young woman. However, she appears to be more intelligent than the previous interviewees. So he hires her for the live-in position, even taking in her daughter when it appears that is the only way Edwina can accept the employment. He has no idea how much his life is about to change.
Edwina works out beautifully, seemingly anticipating Michael's needs and she is not afraid to stand up to him when necessary. Michael is intrigued by both Edwina and Gertrude. The attraction between Michael and Edwina grows stronger as they spend more time working together. During a business trip to check out possible investments, they finally succumb to their passion, but Edwina knows there is no future for them since their stations are so disparate. When an urgent letter from home cuts their trip short, Edwina puts a stop to their extracurricular activities. Even when he proposes to her, she knows that to accept would make them the laughing stock of society, so she urges him to find a bride from his own station in life. At first, he tries to accept her decision, but he soon realizes that she is the only woman he wants. So he pursues her, but is he too late? Has the duke finally run into something he can't have?
A delightful tale, WHY DO DUKES FALL IN LOVE, the fourth book in author Megan Frampton's DUKES BEHAVING BADLY series, is a witty, sexy historical romance that captured my attention from the very beginning. I liked that the heroine is this story is not a simpering female, but an almost fearless widow who gives the duke as good as she gets. She is not afraid to speak her mind. Although she was not accustomed to working for a living, she handles her new job beautifully, determined to support her daughter. I also really liked the duke who is not one to be easily fooled, yet he also has a tender side, especially when it comes to Edwina and her daughter.
I have read the other books in this series and enjoyed each one. If you appreciate this story, which can be read as a standalone, you should also check out the previous novels in this collection, including THE DUKE'S GUIDE TO CORRECT BEHAVIOR, PUT UP YOUR DUKES and ONE-EYED DUKES ARE WILD as well as the novella NO GROOM AT THE INN. The boss/secretary theme and the daily interaction between the duke and Edwina, along with her adorable daughter, makes WHY DO DUKES FALL IN LOVE a fascinating read for fans of historical romance. Don't miss it!