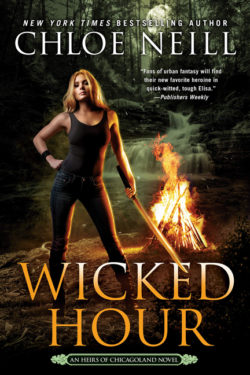 Author

Chloe Neill

Release Date

December 3, 2019

Publisher

Berkley

ISBN/ASIN

9780399587115

Our Rating

Reviewed by

SJ
Our Review
WICKED HOUR is the second book in Chloe Neill's Heirs of Chicagoland series. You don't have to read the first book to understand this one, but reading WILD HUNGER first gives you a better sense of who the characters are.
Elisa Sullivan, the only born vampire and heir to the Cadogan House in Chicago, accompanies her romantic interest, Connor Keene, shifter and son of the Pack Apex (alpha) to Minnesota. Connor invites her to attend an initiation ceremony—a private pack event. But once there, the peace is fractured. Something is killing shifters, and the struggled for control of the Minnesota pack isn't helped by Connor's arrival. Especially not with a vampire in tow.
Elisa and Connor work together to figure out who is hurting the shifters and why the pack seems so disjointed. In the doing, they run into obstacles in their relationship, pack/vampire politics, and Elisa must learn how to handle her secrets before they start to handle her.
The action is fast-paced, the world building consistent and rich, and the hero and heroine wonderfully suited to each other. The blossoming romance between vampire and shifter continues to deepen, and I can't wait to see where author Chloe Neill takes the series. I'm happy to be along for the ride!
 Recommended Read