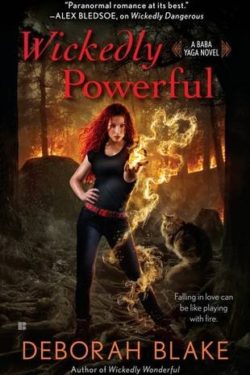 Author

Deborah Blake

Release Date

February 2, 2016

Publisher

Berkley

ISBN/ASIN

B012QH52MK

Our Rating

Reviewed by

Raonaid
Our Review
Bella Young is a Baba Yaga, a witch charged with keeping nature balanced and guarding the doorways to the Otherworld. To help blend in within the mortal realm, she poses as an eccentric traveling artist. The Queen of the Otherworld tasks Bella to find the whereabouts of the Riders, three powerful yet enigmatic immortal beings. An unexpected summoning brings her to Black Mountain Forest in Wyoming. Bella finds herself not only saddled with another important job but also a teenage runaway. The scarred man manning the fire tower threatens to make Bella's duo jobs difficult. Can Bella find the source of the strange fires mysteriously cropping up in the forest and locate her missing immortal friends?
Sam Corbett is an ex-member of the Hotshots, a team of daring firefighters who battle forest fires. Hiding away from the outside world, he works at the fire tower in the Black Mountain Forest. On one of his rounds, Sam encounters a baffling yet beguiling red-headed woman in the forest. Sam finds himself drawn to Bella, however, the ghost of his deceased lover warns him away from her. He does not want to suspect Bella or her 'supposed' niece of causing the unnatural fires continuously threatening the forest. After a misunderstanding, Sam decides to make amends by helping Bella search the forest's surroundings for her three friends.
Throughout the book, Sam made me want nothing more than to comfort him with a hug. He sure knows how to tug on the heartstrings. I could not help but empathize with Sam over all he had lost and been through. I admire his dedication and determination to work through his fear of fire by serving as a watcher. Sam may not be on the front lines combatting flames, but that does not mean his new job as fire watcher is any less important. I love the positive affect Bella has on Sam, slowly drawing him out of his self-imposed seclusion. She also helps him re-discover remnants of the man he had once been before his disfigurement.
Bella is everything I adore in a heroine. She is not only inwardly strong, but she is clever and sassy too. I like, for a supernatural witch, Bella too has her fair share of weaknesses and vulnerabilities that sometimes handicap her like any ordinary person. Bella may fail occasionally, but she learns from her mistakes and tackles them at another angle without giving up. I enjoy her humorous relationship with her Chudo-Yuda, a dragon under the guise of a Norwegian Forest cat. What I like and admire most about Bella is her ability to see past Sam's scars, and despite his disfigurement, she still finds the tortured man attractive.
WICKEDLY POWERFUL is book three in Deborah Blake's paranormal romance series, BABA YAGA. I love the unique and different direction the author went with witches. Until this book, I never knew that the Baba Yaga folklore existed, so I cannot wait to research more about these Slavic witches. I did not mind that Deborah Blake focused more on the storytelling than on Bella and Sam's budding romance.
WICKEDLY POWERFUL is an imaginative, fascinating read that ventures into an unused supernatural folklore, new to the paranormal genre. Going into the book, I felt a little uncertain if I would enjoy the story or not, but I soon found myself absorbed in the author's creative, fantastical world. Deborah Blake is a new-to-me-author, and I am eager to read the previous two books and novellas. I hope the author plans to give the three Rider immortal beings books of their own.