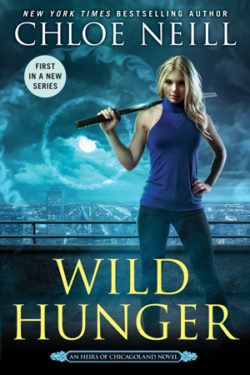 Author

Chloe Neill

Release Date

August 14, 2018

Publisher

Berkley

ISBN/ASIN

9780399587092

Our Rating

Reviewed by

SJ
Our Review
In WILD HUNGER, the first of Chloe Neill's new series, HEIRS OF CHICAGOLAND, Elisa Sullivan is thrust into a mystery that will take all her courage and intelligence to survive.
This story is a spin-off from Neill's popular CHICAGOLAND VAMPIRES series, which I haven't read. I wasn't lost at all, so I can say this series truly stands on its own. It was so good, however, that I plan to go back and read CHICAGOLAND VAMPIRES.
Elisa is the only vampire child ever born, and she's grown up the daughter of both the Sentinel (protector) and Master (leader) of Cadogan House. Away to earn her way in the world and grow up on her own, she returns home to Chicago to provide support for the Parisian vampire house to which she's attached. A vampire summit is being held to ensure a world-wide peace, and Elisa can't wait to serve her house, as well as see her family.
But someone doesn't want that to happen, and murder is just the start of a deepening conspiracy to shake up the supernatural world.
As Elisa tries to help absolve a friend who's been framed for the crime, she's paired with her old best friend, a witch who refuses to do magic, and Connor Keene, a boy she grew up with. Connor is a werewolf and the only son of the North American Central Pack leader. He's the heir to the shapeshifter throne, and an arrogant werewolf with attitude who rubs Elisa the wrong way.
Shifters and vampires don't mix, but there's something about Connor that pulls at Elisa. That and he's the only one who knows her dark secret, one she's never, ever told.
The story packed a punch of excitement and adventure with a touch of romance. Its mystery was enthralling, the characters vibrant and multilayered, the world-building detailed and well-crafted.
If you like urban fantasy and are in search of a satisfying, entertaining read, look no further. WILD HUNGER is a perfect mix of adventure and intrigue.
Recommended Read