Wild Sign (Alpha and Omega)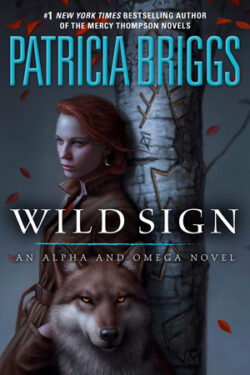 Author

Patricia Briggs

Release Date

March 16, 2021

Publisher

Berkley

ISBN/ASIN

9780440001584

Our Rating

Reviewed by

SJ
Our Review
Patricia Briggs is a master at creating tension while elevating relationships to new plateaus. She's penned another winner with WILD SIGN, the sixth Alpha and Omega book. While the story can be read by itself, it helps to have read the previous books to see how the protagonists have grown into solid characters and companions.
Charles Cornick and Anna Latham are mated werewolves, part of the Marrok's pack. (The Marrok is the head werewolf of all the U.S. werewolves, and likely the most powerful in the world.) The Marrok, also Charles' father, sends Charles and Anna, as well as Tag, a third wolf, out on a mission to investigate some magical disturbances in Northern California, on a property belonging to his mate.
The Marrok's mate has little recollection of her time there, and the mystery grows as it's discovered that people who recently settled there disappeared, just as so many have disappeared from that area over the years.
As Anna and Charles deal with odd magic, something strange happens to Anna. Danger abounds, and Charles (with Anna and Tag's help) must work through the clues leading to the unknown before his mate is taken over by an evil in the mountains. Music, mystery, and love intertwine in this fabulous addition to the series that just keeps getting better!
Background on the Marrok's mate, Sherwood (!!), and a bittersweet ending make WILD SIGN a book you won't be able to put down. Fabulous! A must-read for urban fantasy fans, for Patricia Briggs fans, and for those who love a well-told, amazingly entertaining, fast-paced story.
Recommended Read!