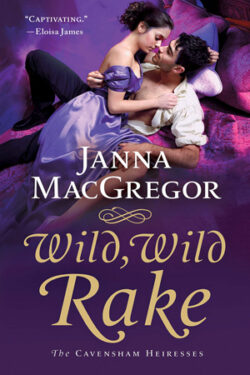 Author

Janna MacGregor

Release Date

February 25, 2020

Publisher

St. Martin's

ISBN/ASIN

978-1-250-29601-6

Our Rating

Reviewed by

Diana Mcc
Our Review
I enjoyed WILD, WILD RAKE by Janna MacGregor. It is the 6th addition to The Cavensham Heiresses series. I have not read the other books, but this one can definitely stand on its own.
Lady Avalon Warwyk is widowed when her arrogant, selfish, and cruel husband dies. She is left to raise their son on her own. Avalon only spent one night in her husband's bed, and he banished Avalon to an estate outside of London. He moved in with his pregnant mistress, the lady he really wanted to marry.
The Avalon's marriage was one of convenience as the Lord wanted back a piece of land that Avalon's father won in a poker game. 
Ten years later, her son's guardian and manager of the inheritance sends his younger brother, Vicar Devan Farris, to make sure Avalon is not squandering her son's inheritance. Avalon and Devan have a history as they've known each other for over ten years and disliked each other for various reasons. 
Vicar Devan is known as a rake, a notorious flirt and is extremely handsome. However, his reputation is not deserved as he is a virgin and waiting for marriage. 
Avalon is known to be difficult to work with and she doesn't want the vicar poking his nose into her business. She doesn't trust any man after the way her husband had treated her. Devan soon learns that Avalon has a huge heart. Her charity helps dozens of prostitutes, some pregnant.
When they're locked in the wine cellar overnight, sparks fly. Soon after they find themselves forced to marry. Avalon must learn to trust and Devan must learn to be more forth coming.
Once the love scenes start in WILD, WILD RAKE, they are lovely. There are several subplots which are interesting, the dialogue is snappy and perfect, there is comedy, mystery, drama and very sensual love scenes.
Recommended Read