Wildflower Road (Madison River Romance)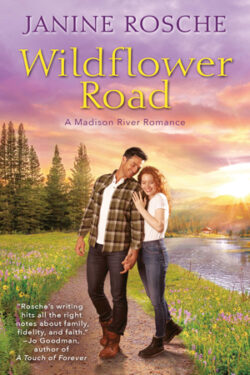 Author

Janine Rosche

Release Date

October 13, 2020

Publisher

Berkley Books

ISBN/ASIN

9780593100523

Our Rating

Reviewed by

Jo
Our Review
WILDFLOWER ROAD is the second book in the MADISON RIVER ROMANCE series but the first one I've read. There were enough details and background information that I didn't feel lost and look forward to reading the first book, THIS WANDERING HEART, to fill in some of the details. 
When Shane's life is destroyed, he makes a fresh start in Montana being a cook at a cabin resort that's on its last legs. He's their hope for getting the restaurant noticed and getting cabins filled. But Shane brings a lot of baggage with him. He never expected to be embraced by the owner couple and their daughter, Ryann, who introduces him to her friends.
The story has some dark moments, but it's also filled with family and friends, romance and laughter. Shane is an interesting character, finally healing then regressing when dealt a new hurt. And the same with Ryann. But these feelings make them deep characters to root for. Note that there are Christian undertones to the story since Shane is a former pastor. Bible passages are read and church is held in a bar.
The vivid descriptions of the outdoors made me feel l like I was there. There is wonderful closure with the epilogue that brought tears to my eyes. I'm hoping to find out how Ryann and Shane's story continues, as well as the future of the family's cabin resort in the next book in the series, GLORY FALLS.