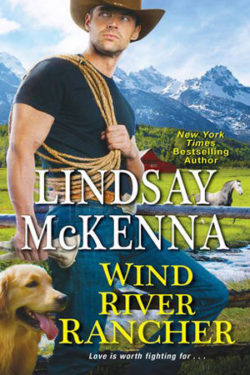 Author

Lindsay McKenna

Release Date

December 27, 2016

Publisher

Zebra

ISBN/ASIN

9781420141764

Our Rating

Reviewed by

Jo
Our Review
I had previously read two books in the JACKSON HOLE series by Lindsay McKenna and enjoyed them. McKenna's writing is reminiscent to me of books by Linda Lael Miller, Diana Palmer and Janet Dailey, among others.
WIND RIVER RANCHER takes us back to Wind River Valley, and though not having read the first book in the series, WIND RIVER WRANGLER, I didn't feel lost. The book flowed smoothly and had such a depth to the characters along with lots of emotions. We get to know each of the characters a little at a time, but I was always surprised when the author showed us even more hurt and anger just below the surface that we hadn't already seen. The descriptions of the land, the ranch, the house, and the characters' feelings had a realism to them and made me feel that I was there.
Shay is a veteran with PTSD, just like the wranglers she hires to get her ranch back in shape. Reese is the newest addition to her crew, and he hit bottom after being discharged a few years before and never getting a handle on his PTSD nor help to make something of himself. His wife divorced him after he had hit her–she tried to wake him while Reese was in the throes of a nightmare. Things went from bad to worse and he couldn't subject his parents to his illness so he left their home too. The best thing he did was show up at Charlie's feed store and get treated like a human and not an animal. What a special town he ends up in.
The other vets, living and working at Shay's Ranch, the Bar C, are supportive of Shay and what she's trying to accomplish. Her alcoholic father, who had a stroke and is living in a nursing home, is a piece of work. He treats her terribly. Shay can't do anything right since she's a girl, and he knocks her down verbally each time she visits him, forgetting that he's the reason the ranch was so run down. He was also always verbally abusive and physically abusive to his wife as well. With Reese by her side she has a support system she never had before, and the other vets let her know they've had her back since she took them in.
Watching their interactions as well as with the other vets: Garret, Noah and Harper, but also having the support of the town, was nothing short of amazing. What Shay doesn't think of, Reese does, thanks to his business degree and accounting background. The book has everything: family and friends, neighbors, small businesses, the mountains, the ranch, and a host of emotions. The chemistry between Reese and Shay was scorching and could be seen by everyone but them. It was nice to see their friendship turn into something more but always with encouragement and respect.  
We get some closure and a few happily ever afters, but the book ended just a little too abruptly for me. I'm happy to see there will be more books in the series with Garret's story told next in WIND RIVER COWBOY. It's already added to my always growing TBR pile!