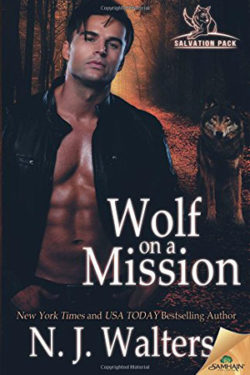 Author

N.J. Walters

Release Date

April 5, 2016

Publisher

Samhain Publishing, Ltd.

ISBN/ASIN

B017NGWR5Y

Our Rating

Reviewed by

AngelaG
Our Review
In N.J. Walters's WOLF ON A MISSION, the 6th book in the Salvation Pack series, full blooded and dominant werewolf Elias Gallagher left his familial pack when his brother met his mate, because he didn't agree with the prejudice against half-breeds. He loved his life with his family until tragedy struck and took away part of that. Now he is the sole guardian for his half-breed nephews and is looking for safety for them in a world where most packs would kill the boys for being what they are. His sister-in-law had heard of the Salvation Pack and their openness to half-breeds, and Elias thinks that this might be the place where they can be safe. 
Tragedy and loss have seemed to follow Sue Walsh for years. First her husband leaves her as a single mother six weeks after their son is born. Her best friend was attacked in her home by a wild animal and ended up moving away. Then her parents die within weeks of each other. Now her ex-husband wants to sue for custody of their son because he thinks he can get money she doesn't have and can't access. Now Sue only has her son, and she doesn't need anything else that could potentially be taken from her.
When Sue and Elias meet, the chemistry is instantaneous, but neither needs the complication of the other. Elias needs to think of his nephews and not get involved with a human woman who doesn't know anything about werewolves. Sue has too many problems on her plate to deal with her attraction to Elias. But the fires that burn between the two will not be denied. When danger enters the picture and Sue ends up in the middle, Elias knows that he will do whatever he needs to in order to claim Sue and her son as his own, no matter the cost.
I have found my newest book boyfriend! Elias is everything a woman would think of when it comes to an alpha male. He is protective of those he loves, willing to place himself in danger to save others, has a backup plan to his backup plan, and is so damn hot and sexy that he melts all thoughts out of a woman's head.
Sue is such an amazing heroine in this story. She has no idea of the depths of her strength, but she has a spine of steel and shows it now and again. My heart broke for what she went though, and I will admit that I shed some tears (from sorrow and happiness) while reading WOLF ON A MISSION. I would highly recommend this story to any reader who loves romance and reading about a character who is able to put her pain behind her and move on to the future. I am very much looking forward to the next installment in this series.
RJ RECOMMENDED READ