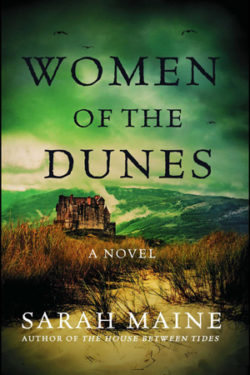 Author

Sarah Maine

Release Date

July 24, 2018

Publisher

Atria Books

ISBN/ASIN

978-1501189593

Our Rating

Reviewed by

Dorine
Our Review
Her most engaging novel so far, WOMEN OF THE DUNES by Sarah Maine toys with the reader, teasing us with mysterious tidbits until the final page.
Libby Snow's family history is entrenched in folklore, told over and over through the generations. As an archaeologist, she jumps at the chance to assist with a dig in Scotland where her family's history supposedly took place.
Rodri Sturrock lives at Sturrock House, acting as his brother Hector's agent regarding the upcoming excavation. He's adamant about what they will and will not allow, even though Libby seems to soften his rough edges every time they meet.
Sarah Maine's talent becomes more evident with every book. It's strange, but I feel a rhythm in her style. It's balanced like music, sing-song-like, flowing through my head artistically. She paints beautiful landscapes with her words, making the seashore dunes come alive.
The mystery builds with captivating gradations. It made me anxious and hopeful that Libby would find the truth to her family's history. Would it be wonderful, or were they just a pack of thieves?
I was camping when I read my digital advanced copy before release day. It held me spellbound for days, but I neglected to put down my thoughts before reading another book. Good thing, too, because it gave me a reason to read it again months later. I don't think I could have written a deserving review without that second read, and even now I'm not sure I can explain why I love this story so much, but I'll do my best!
The characterization and scene-setting are amazing. Maine has the uncanny ability to give such unique cues to a conversation over tea, making the characters jump off the page and into your heart. I love the nuances of our hero, Rodri, and his foodie business partners. They get on like old friends who love each other as family. They're not even close to a normal family, so their idiosyncrasies and secrets attract Libby's curiosity. Maine gives such good attention to details that are never boring, making the book play like a movie in my head. This novel is no less entertaining the second time through. It's so good that I didn't dare skim for fear of missing some exquisite detail.
The story goes through three different time periods as it solves the mysteries surrounding the archaeological dig the book centers on. The main characters are the archaeologists who want the historical discovery, the local police who want to resolve a more recently buried body, and the two brothers who own or live on the estate in question. There isn't just one mystery, so the trail is complicated and entertaining through years of folklore and misdeeds. And, of course, there is a despicable villain who becomes more appalling toward the end.
Looking back at the history, two holy men fall in love with mysterious women, which adds to the gossip surrounding the dig. Then there are three generations of warring brothers. With several points of view to tell each generation's truth, the present-day archaeologists are searching for these same stories among the ruins. There seems to be too much going on, in the way I describe it, but it's so mesmerizing. Loaded with deliciously addictive prose and an equally addictive plot, WOMEN OF THE DUNES is exactly the style of fiction I love. With a bit of tender romance that makes me hopeful for a fairy-tale ending, I'm begging for a sequel to catch-up with the sons when they're grown.
Sarah Maine has a talent for setting place and time that pulls me into her stories. I especially enjoyed the main characters this time, specifically since their stories are told bit by bit as history is discovered. Maine's talent for characterization is progressing vividly. Especially with Rodri and his family. They were so much fun that I kept rereading their scenes.
If I had to make a comparison, I feel as though WOMEN OF THE DUNES moves much faster with the same exquisite detail as THE HOUSE BETWEEN TIDES and BEYOND THE WILD RIVER, but with a depiction that leaps off the page. Although I enjoyed the latter two books, WOMEN OF THE DUNES is beyond brilliant from beginning to end.
Don't miss this Romance Junkies' Recommended Read!