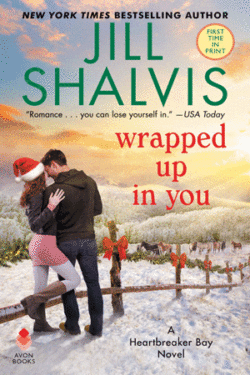 Author

Jill Shalvis

Release Date

September 24, 2019

Publisher

Avon

ISBN/ASIN

B07H53VY7X

Our Rating

Reviewed by

Raonaid
Our Review
Kel O'Donnell, an Idaho sheriff, returns to San Francisco, California, on a forced vacation. During his stay, he agrees to run security at his cousin's building project. Kel meets a saucy red-head, who literally adds spice to his life. He senses there is more to Ivy Snow than what she allows others to know. Being around her forces Kel to re-evaluate what he truly wants in life. Can Ivy help heal Kel's aversion to emotional entanglements? Or will he succeed in ruining yet another relationship?
Ivy Snow craves permanence. She successfully puts down roots in San Francisco and operates her own taco truck. Ivy tries to keep her friends from learning about her troubling and dark past. When her truck is broken into, an off-duty sheriff sweeps in to her rescue. Chemistry explodes between them. However, Ivy's convict brother threatens their tentative relationship. Can Ivy entrust her vulnerable heart to Kel? Or will her brother once again destroy everything?
Unfortunately, I am three books behind in the ANIMAL MAGNETISM series, so I vaguely remember Kel. I will have to fix that in the near future. Kel is a man, who always puts his job ahead of his own needs. I empathize with his aversion of allowing people close. He has been burned one too many times, so Kel is reluctant to open up to anyone new. What I like about Kel is how he recognizes a kindred spirit with Ivy. Their backgrounds may differ, yet they share a lot in common; especially their difficulties in trusting people.
Ivy is everything I like in a heroine. She is equal parts vulnerable and resilient wrapped up in a snarky package. I admire the inner strength and courage it took a young Ivy to leave a bad lifestyle. She did not have many positive role models growing up; however, that did not stop Ivy from making something out of her life. Instead of taking the easy road, Ivy worked and compromised for everything she owned. What I like the most about Ivy is her dedication to family. She may not be on good terms with her brother or mother, yet Ivy never once gave up on them.
WRAPPED UP IN YOU is book eight in Jill Shalvis' quirky and fun contemporary series, HEARTBREAKER BAY. I love how the author connects this series to her ANIMAL MAGNETISM world. I like how the Christmas theme takes a back seat to the story's overall plot. Instead, Jill Shalvis focuses more on the characters and their emotional development.
WRAPPED UP IN YOU is an uplifting tale of two emotionally wounded and like-minded souls helping each other heal. I wonder who the author plans to write about next. I hope this is not the end to the HEARTBREAKER BAY world.