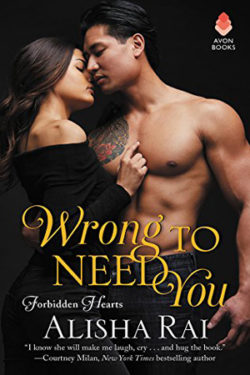 Author

Alisha Rai

Release Date

November 28, 2017

Publisher

Avon Books

ISBN/ASIN

978-0062566751

Our Rating

Reviewed by

Lil
Our Review
WRONG TO NEED YOU is the second installment in Alisha Rai's Forbidden Hearts series and features Kane sibling, Jackson. A decade ago, tragedy took away his father and left unanswered questions. There had also been turmoil roiling his family for the loss of their share as co-owners of a successful business and anger over the treatment of his loved ones by the Chandlers, their ex-partners. But then came the accusation of arson leveled at this quiet and painfully shy young man. The ensuing scandal, suspicion, and whispers were too much to bear. Jackson subsequently left town and cut ties with nearly everyone he knew.
Sadia Ahmed is Pakistani-American, unapologetically bisexual, and grew up with and was close friends to the Kane children. She saw the devastation play out up close, as the wife of the eldest brother, Paul. She is a widow now, single parenting their son, Kareem, and struggling to keep the Kane café running. The inheritance of her husband's café is both a means to potentially provide for her son and a burden of debt, problems to solve and perpetual paperwork.
Jackson had been her champion and confidante when they were young, and she continued trying to keep in contact with him by emailing news and photos during his absence. Without receiving any response, it was by no means certain that her messages reached him. 
When the prodigal son returns and these two old friends meet again, hurt, anger, and confusion rise in Sadia, but so does an unwilling attraction. They think the idea of a relationship sounds so wrong. But what if it feels so right?
Our main characters appeared in the first book of the series, HATE TO WANT YOU, Livvy Kane and Nicholas Chandler's story. When we meet Sadia again, we see her striving to make ends meet, to be a good mother, to show her family that she is not a failure. She works shifts bartending when she isn't running the café. She tries to put up a brave front for all that has happened but is worn ragged and battles panic attacks. That said, Sadia is also vivacious and a staunch friend and protector.
In his time away from home, Jackson has become a mysterious celebrity pop-up restaurant chef. He is impressive in strength of character and overall physical size. However, he is achingly vulnerable in all of his earnest, tongue-tied awkwardness and sheer adoration of the heroine. His interactions with her son are charming, sweet, and touching. Answers to the suspected arson are revealed and make clear how Jackson could have been so emotionally wounded that he would leave town and stay away for so long. 
I loved that the author did not rush things but took the time needed for the characters to face their mutual attraction and to allow for them to work through their difficulties. WRONG TO NEED YOU is a great book for anyone who wants well fleshed-out characters in which readers can be emotionally invested. It is told with a lot of heart and when the time is right, quite a bit of heat.