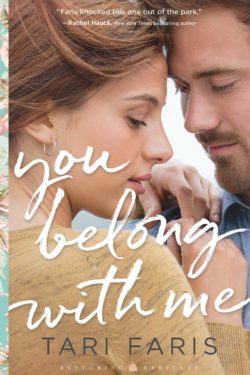 Author

Tari Faris

Release Date

September 3, 2019

Publisher

Revell

ISBN/ASIN

9780800736477/B07PVQ15TF

Our Rating

Reviewed by

Michele Rioli
Our Review
YOU BELONG WITH ME delightfully delivers a dual love story. Luke Johnson lives in the historic town of Heritage, Michigan. He is a handsome guy who does excellent carpentry work. He was raised as a foster child and struggles with emotional baggage, bonding with the people he loves. He met Hannah Thornton when they were kids and she captured his heart. Hannah is his rock and best friend. In high school, Luke broke off their relationship when he decided he wasn't good enough for her. Hannah, a ravishing Realtor, secretly loves Luke but denies her attraction, protecting her heart. Will Luke and Hannah get a second chance at love?
Hannah's brother, Thomas, broke off his relationship with his long time girlfriend, Janie, who is Hannah's best friend. Many questions and hurt feelings linger. Janie is confused as to what went wrong. She left for Paris and came back to find that Thomas is engaged to another girl. Shocked, Janie is very upset seeing Thomas with someone else. What does the future have in store for Janie?
Relationship woes, struggles with belonging, and startling family secrets abound in Ms. Faris' new novel, YOU BELONG WITH ME. There are plot twists and sub-plots galore, as Hannah, a pretty, feisty gal, takes on the challenge of her career, restoring the town of Heritage. Small town charm, a fun fundraiser, a comical brass hippo that magically moves and much more, all knit together a complex, charming story that shines from beginning to end. The author does a good job reeling in the reader, because there is never a dull moment with the whole lot of charismatic characters. Luke and Hannah, and Thomas and Janie are the shining stars but other characters share the limelight as well. There is extreme depth, entertaining history, hard-earned romance, steadfast relationships, emotional issues, the message of God and startling discoveries that will leave the reader wanting more! Ms. Faris' debut series, Restoring Heritage, really delivers! YOU BELONG WITH ME is inspiring, fascinating and very romantic. A sparkly, suspenseful treat!