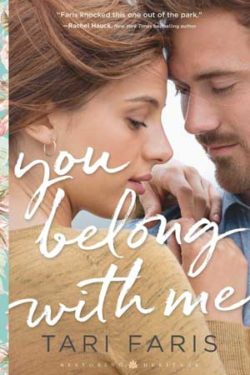 Author

Tari Faris

Release Date

September 3, 2019

Publisher

Revell

ISBN/ASIN

9781493419388

Our Rating

Reviewed by

Book Lover
Our Review
YOU BELONG WITH ME by Tari Faris is a Christian romance. I don't read a lot of these, so I'm not familiar with the genre, but I did enjoy the book.
There were two romances and another implied romance I assume for future books. Luke and Hannah were the main romance. A childhood friends-to-lovers theme. Their relationship was troubled with Luke being an orphan and raised in foster care, leaving Luke afraid to commit. Hannah also had issues. She wanted to fix everyone's life, especially Luke's. This need to fix everything stemmed from her mother abandoning the family when Hannah and her brother were young.
Hannah wanted everything in the small town of Heritage, Michigan, to stay just as it was. She was devastated when she learned her brother was going to sell their family home and leave Heritage because he was going to marry the woman he'd been dating.
Both Hannah and Luke had baggage to work through. Luke's behavior struck me as reasonable for what he'd been through, but Hannah came off as a little too scatterbrained and too pushy for me a lot of the time.
Then there was her brother, Thomas' romance with Janie. That felt more believable and I really loved both characters. This is another childhood friends to lovers trope, and I really identified with both characters. Thomas found out some terrible news and broke off with Janie to protect her. She left the country to study in France and returned to find him engaged to someone else. Thrown together working at his aunt and uncle's diner, they came to terms with each other and the secrets Thomas was keeping.
Luke and Hannah broke up when Hannah went behind his back to find out about his background. Luke left because he believed she was trying to change him, and he believed she would never be happy with who he was. I had to agree with him. I felt the same way. She just came off as too pushy and unsympathetic.
I also found the end of the book to be very preachy and a lot of telling versus showing the reader how God led them to their destinations and their resolutions to romance. Thomas's big issue didn't feel organic to the story, perhaps because of the way his issue was introduced.
I loved the minister, Nate, and the hint of a relationship with Janie's sister. I enjoyed the story, but there were several problematic issues for me to truly connect with the book.