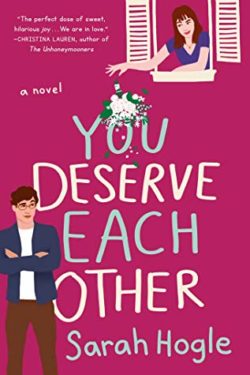 Author

Sarah Hogle

Release Date

April 7, 2019

Publisher

G.P. Putnam's Sons

ISBN/ASIN

9780593085424/B07V791JBB

Our Rating

Reviewed by

Michele Rioli
Our Review
YOU DESERVE EACH OTHER is perfectly fabulous, snarky fun! It's a fast-paced original tale of discontent between an engaged couple. The altar of I Do's is looming large and Naomi Westfield doesn't want any part of it. She is engaged to an extremely handsome well-bred man but…the spark isn't there. Discord and anger has taken over and Naomi wrestles with her emotions. Her fiance', Nicholas Rose, ever the gentleman, irks her and his controlling mom has completely taken over their wedding planning. Naomi didn't even get to pick out her own wedding invitations! She plans on undermining Nicholas, with ill-timed pranks, to get him to call off the wedding. Will she succeed?
Nicholas loves Naomi, but lately she's ghosting, as in not confiding in him about her feelings concerning their relationship and their upcoming nuptials. He is upset with her lack of involvement, so much so that he is considering breaking it off. But, that's not in his nature to give up on something he really cares about. So, it's a surprise when he's arguing with Naomi, that his love for her shines through. Maybe they have it all wrong? Maybe they need to take a stand as a united front. If Nicholas can get Naomi on board with his plan, that will be the defining moment. That's a big if, but hopefully he can. Plus, they may just fall deeply in love all over again!
YOU DESERVE EACH OTHER is about an engaged couple who are headed for a breakup disaster of their own making but rediscover each other in the process. Partly to blame are the families of the couple who bulldoze over them and control the ceremony arrangements. Naomi and Nicholas drop kick each other into prickly situations, but soon start to swoon lovingly and wonder if they are meant to be after all. Oh my gosh, Ms. Hogle did a phenomenal job writing about blackmail stunts that had me giggling and laughing hilariously! The mother-in-law from hell was an added bonus that nicely filled in all the corners of this crash and burn engagement story. I absolutely loved Ms. Hogle's debut novel! YOU DESERVE EACH OTHER is a peachy story! Ripe, pithy remarks, juicy buffoonery and fuzzily romantic!