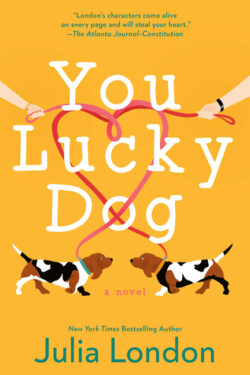 Author

Julia London

Release Date

August 25, 2020

Publisher

Berkley

ISBN/ASIN

9780593100387

Our Rating

Reviewed by

Jo
Our Review
YOU LUCKY DOG by Julia London took me a while to get into. It was very chaotic, as we are introduced to the characters, and I found it hard to like many of them. Carly and Max and their dogs, Baxter and Hazel, respectively, meet when Carly finally figures out where her dog is–with Max. (The dog walker dropped off an impostor Basset Hound at her cottage instead of Baxter.)  Max only figures out he has the wrong dog the next morning since he was a little occupied the night before. When the two dogs meet, they really steal the limelight.
Carly comes from a very dysfunctional family. When she tries to tell Max that, he doesn't believe her. Her family appears often, and Carly seems to be the most sane one in the bunch. She's always helping others, but other than her dog, and then Max, no one is ever there for her. She's an unemployed publicist with only two clients, and one is stranger than the other.
The story has multiple story lines but throughout her family continues to cause problems for her. The story takes place in Austin, Texas, New York City, and New Jersey but doesn't always have a smooth flow.  As Carly and Max's friendship grows, Carly wants to take her career in another direction. But what will that do to them? Carly brings another dimension to Max's life, but is it meant to be? 
YOU LUCKY DOG is emotional at times, but the dogs bring a levity to the story. It's a romance that has a lot of heart due to the main characters and their dogs, but too much drama from the rest of them, especially Carly's mom.  
Ms. London is an author who I find enjoyable and she writes in different genres—historical romances, contemporary romances, and western romances with cowboys. I'll be back for more since I have quite a few of her books on my TBR pile.