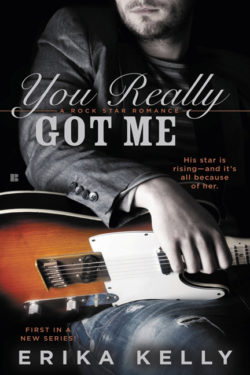 Author

Erika Kelly

Release Date

January 6, 2015

Publisher

Berkley Sensation

ISBN/ASIN

9780425277287

Our Rating

Reviewed by

Jo
Our Review
YOU REALLY GOT ME, the first book in the ROCK STAR ROMANCE SERIES, held my attention from the first page to the last, even with musicians in a band named Snatch!  Emmie, the bass guitarist's sister, was front and center throughout. She had a calming presence about her in the crazy music industry as the personal assistant to Irwin, the head of Amoeba Records. She wants more for herself. She wants a career. But will she get it if she remains where she is?
Watching Emmie run to Austin, Texas from New York City for six weeks to try and earn her promotion was often heartbreaking. But seeing how she became the house mom for her brother and his bandmates was rewarding and enlightening. She's good at what she does, and she does everything with such ease. She doesn't want to be involved romantically with any musician due to how her dad and her ex-boyfriend treated her. But will Slater, the lead singer, get her to reconsider?
Watching their one step forward and two or three step back approach was tough, as was their lack of communication about themselves and anything personal. She and Slater understood each other like no one else ever had, and they had off-the-chart chemistry, although each of them tended to have doubts. They both had rotten childhoods and shed light on why the other may have been treated the way they were.  Emmie's relationship with her brother, Derek, was sometimes hurtful, but they always looked out for each other. She always boosted him up whenever she could since he always had doubts about his abilities. So did Slater for that matter.
This is a rock and roll romance filled with family and friends, groupies, sex, and music.  The story flowed smoothly, and some of the characters had a depth to them. Watching Emmie work her magic with the band to get them noticed and get a contract was often mesmerizing. There were twists and turns to the story but a happily-ever-after on several fronts at the end. I look forward to reading the other three books in the series, I WANT YOU TO WANT ME, TAKE ME HOME TONIGHT, and MORE THAN A FEELING.
Kelly is a new-to-me author. While the book was somewhat steamier in parts than I usually like, the hot scenes were needed to tell the story and enriched it in the telling.