I have always been a romantic at heart. I believe that while life is tough, there is always a happy ending around the corner, My characters have to work for it, however. Like life in NYC, nothing comes easy and that includes love.
I live in New York City with my husband and two children and hopefully soon a cat of my own. My day begins with a lot of caffeine and ends with a glass or two of red wine. I practice law but daydream of a time when I can sit by a beach somewhere and write beautiful stories of men falling in love. Although there are bound to be a few bumps along the way, a Happily Ever After is always guaranteed.
You can find me at the following places:
---

THE BREAKFAST CLUB is a gay romance series about three men, friends since childhood and college, who share each others' lives, loves and heartaches.
BEYOND THE SURFACE
"Beautifully written with characters I not only want to be friends with but that I admire; Beyond the Surface is author Felice Stevens best work to date and a great start to a new series."-Slick-Guilty Pleasures Book Reviews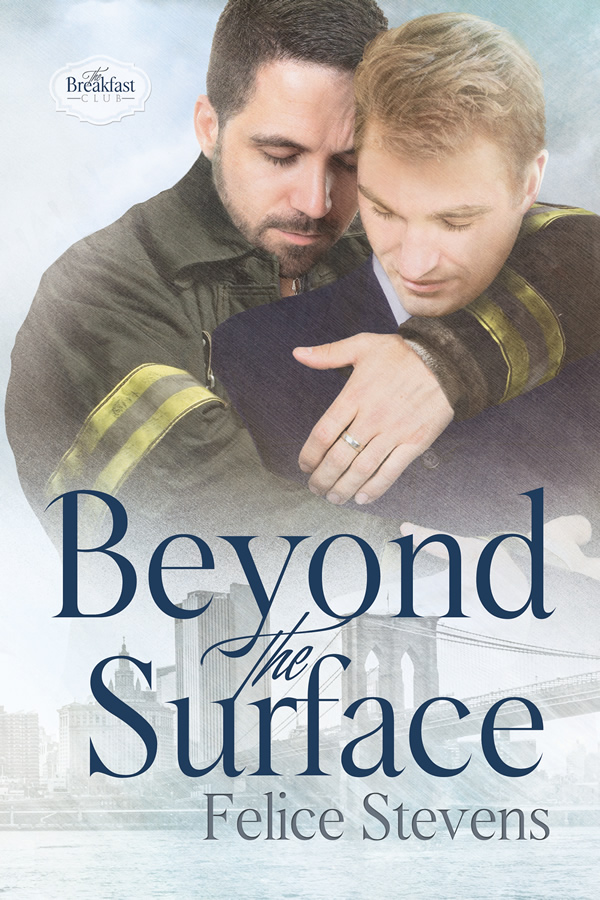 On 9/11, firefighter Nick Fletcher's world changed forever. He's unable to rid himself of survivor's guilt, made worse by the secret he hides from his family and co-workers. Nick's life is centered around helping burn victims, until he is reunited with the man he'd once loved but pushed away. Now he has a second chance at a love he thought lost forever.
For fashion designer Julian Cornell, appearances mean everything. His love affairs are strictly casual, and the only thing he cares about is making his clothing line a success. A chance encounter with the man he loved long ago has Julian thinking for the first time in years there may be more to life than being seen at the best parties and what designer labels to wear.
When Julian's world takes an unexpected turn, it's Nick who helps him regain perspective on what matters most in life. Julian, in turn, helps Nick accept who he is and understand he isn't responsible for tragedies he couldn't prevent. Lost love found can be even sweeter the second time around and after all the years apart, both men learn to look beyond the surface to find the men they are inside
BETTING ON FOREVER
"If you want a story about two men who really deserve it, finding love and happiness, I definitely recommend you pick this one up. Add in a bit of steam, some incredibly tender moments and kite flying on the beach and this may just be Felice Stevens' most romantic book yet!" —Debra from Sinfully Gay Romance Book Reviews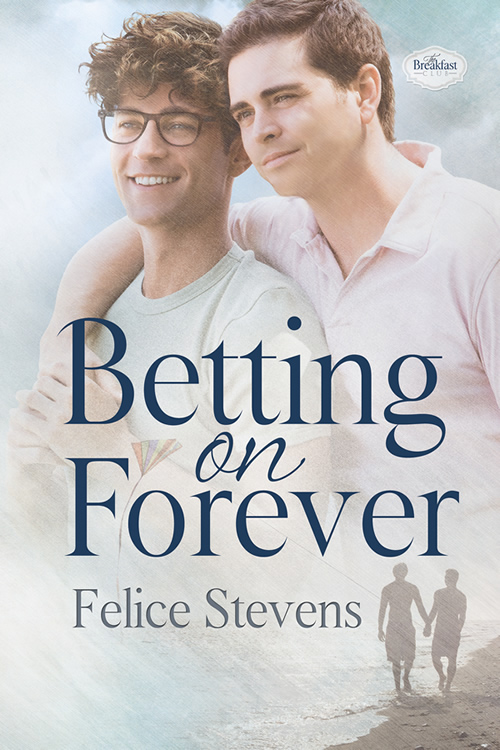 A weekend fling in Atlantic City couldn't be more out of socially shy Zach Cohen's comfort zone, but a bet with his best friends forces him to put aside the humiliation he's hidden for years and step away from behind his computer screens and online world. When he meets Sam Stein, despite their spark, Zach expects nothing more than a night of passion and a kiss good-bye. Yet weeks later, he can't keep the man out of his head.
After a split-second decision with tragic results ends his twenty-year police career at the same time as his relationship falls apart, Sam Stein is drifting through life. At his best friend's urging, he agrees to a trip to Atlantic City to clear his head. What Sam doesn't plan on is meeting Zach Cohen, whose sweet nature and honesty has him thinking maybe he could move forward, until Zach leaves him without explanation, reinforcing Sam's belief that people can't be trusted.
Well-meaning friends refuse to let Zach and Sam hide from each other, forcing them to realize their weekend was much more than a one-night stand. Before that can happen, Zach must come to terms with his past and stand up for his own independence, while Sam has to learn to take a chance and believe in himself and people again. All bets are off when dreams become reality, and forever doesn't seem to be long enough.
SECOND TO NONE
"I loved this book, the back and forth between Marcus and Tyler and the underlying chemistry before they actually hooked up was amazing, then add in the between the sheets chemistry and we have an explosive book!!" Jaime, Alpha Book Reviews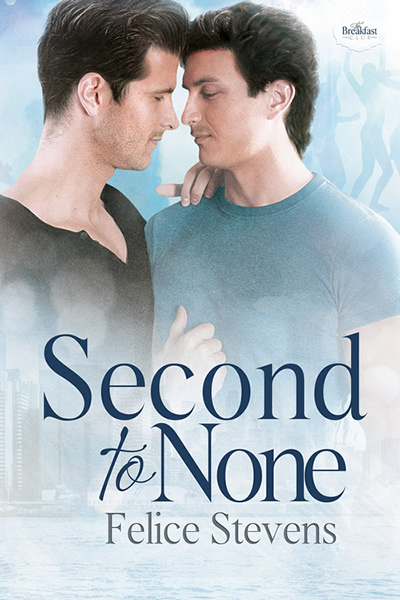 Nightclub owner Marcus Feldman never met a man he didn't love, at least for the night. Although his best friends have all found love, Marcus shuns their advice to commit to one man and settle down. His past has taught him monogamy and marriage is for fools, and Marcus is anything but a fool.
Tyler Reiss's dream of dancing professionally is unexpectedly cut short and replaced by a different kind of love. He trades in his ballet slippers for go go boots, and spends his nights dancing at the hottest gay club in the city. Flirting with the customers for tips is easy, but resisting the dark and sexy Marcus is becoming harder to do with each passing day.
Unforeseen circumstances bring Marcus and Tyler closer and though they give in to their mutual passion, both still struggle to guard their hearts. When crises threaten, Tyler and Marcus find their strength in each other rather than falling apart. Tyler must choose to either run, or stay and fight for the life he wants, while Marcus realizes that love doesn't mean losing himself and opens his heart, making him a better man in the end.