JENNIFER THERIOT
USA Today Bestselling Author Jennifer Theriot (pronounced Terrio) hails from the Great State of Texas. She is a career woman, working as CFO of a Texas based real estate investment firm by day and does her writing at nights and on weekends. In her limited spare time, Jennifer enjoys being outdoors; preferably somewhere on a beach curled up with a good book. Spending time with family and friends, listening to music, watching a baseball game and enjoying a good bottle of wine are usually on her to-do lists. She's mom to three grown children and 'MiMi' to four grandkids – all of whom she adores!
Jennifer took a chance that there could be an interest in romance with middle aged couples who are finding themselves at a crossroads and wrote her debut novel Out of the Box Awakening, which centers on the hope of finding happiness and passion through unexpected heartache. 'Grownup romance from the other side of 30' is how she characterizes her books.
Her best-selling Out of the Box series consists of OUT OF THE BOX AWAKENING, OUT OF THE BOX REGIFTED,OUT OF THE BOX EVERLASTING and a companion novella TOCCATA OBBLIGATO~SERENADING KYRA.
---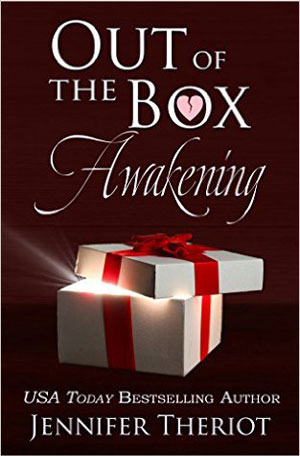 OUT OF THE BOX AWAKENING:
**2016 Reader's Favorite Award Winner in Women's Fiction**
**2017 Texas Association of Authors 1st Place: Romance Series**
Olivia Petersen thought her life ended the day her husband walked out. Little did she know, it had only just begun.
Swept from her perfect paper-doll life in Houston, Olivia finds herself in Chicago, alone, betrayed, and far from home. Soon everything she thought she knew about herself and her life will be challenged.
Ash Harper is the man who has everything–everything except healing from the losses of a lifetime and a dark family secret.
What happens when the married woman and the sexy handsome widower are thrown together by fate?
Recommended for readers over the age of 18. This book contains adult language and situations.
OUT OF THE BOX REGIFTED: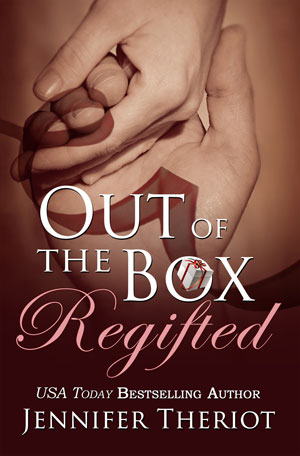 Betrayal, Lies, Loss, Hurt, Secrets….
With a new beginning on the horizon for Olivia and Ash, what could possibly stop them from finding their happily-ever-after? In the midst of joy, this blended family finds they have to trust in love and family bonds to get them through what is coming next…or self-destruct.
In order to move on, Olivia must face the haunting demons from her past life with her ex-husband. Demands and more betrayals force her to come to grips with things she can't change and try to forgive, not only those in her past, but herself as well.
Faced with his own hidden secrets, will Ash allow Olivia to stand by him? How long can he keep parts of his life hidden from those who love him?
Can Olivia gain the confidence she needs to explore the new life Ash is offering and still remain true to herself?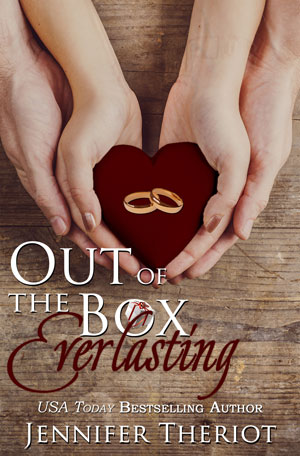 OUT OF THE BOX EVERLASTING:
Recently engaged Ash and Olivia are returning home from two romance-filled weeks abroad to tragedy and chaos.
A terrible accident in the Seattle harbor has hospitalized one of Ash's children and skeletons are about to come out of the closet because of it. Dark secrets Ash had sworn to take with him to the grave will have to be told to get his son the treatment he needs.
As if that's not enough, a thoughtless decision could destroy his relationship with Olivia. Forever.
While they have the love and support of family and friends, and they've made it through some of life's toughest obstacles already, life just threw them a real curveball. No one is sure if their love will be strong enough to survive this one.
Burdened with feelings of betrayal and uncertainty, Olivia finds herself returning to familiar ground. On the outside, she and Ash seem like the perfect couple, but everyone has demons from their past. To work through the vestiges of these demons, she seeks the professional help of Dr. Trenda Silverman in Galveston, Texas. Hard questions will be asked. Harder answers will be realized.
Sometimes you have to go to Hell before you can get to Heaven. Follow Ash and Olivia on this emotionally poignant journey as they capture Everlasting.
To read more, visit: